VITAL hosts record setting Fishing Club Tournament
Details

Category: News
Published: Friday, 15 July 2016 15:08
Written by Pohnpei Fishing Club
Hits: 2014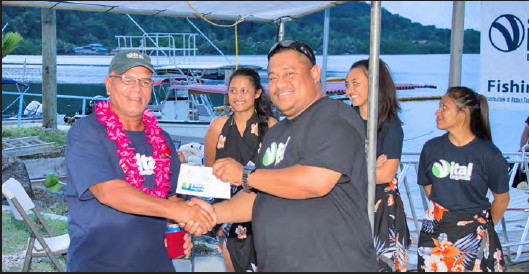 June 11, 2016
Pohnpei, FSM—Vital, FSM's Petroleum Corporation hosted a major fishing tournament for the Pohnpei Fishing Club giving away hundreds of gallons of fuel and other prizes. The tournament attracted a record breaking 37 boats participating in the tournament. All of which returned safely and each of which had an Emergency Position-Indicating Radio Beacon (EPIRB) device.
Each boat that registered received 20 to 80 gallons of gas, along with free t-shirts for the crew. Vital T-Shirts were everywhere during the weigh in.
Registration for event was held at Mangrove Bay Bar on the evening before the tournament and weigh-in was also hosted at Mangrove Bay Bar on the evening of the tournament.
The tournament was set up to offer a lot of prizes but the grand prize was 100 gallons of fuel and a new rod and reel.

The top six biggest fish won prizes, along 1 and 2 in six species categories along with lady and junior anglers.
It was a beautiful day for fishing. The winners are listed below.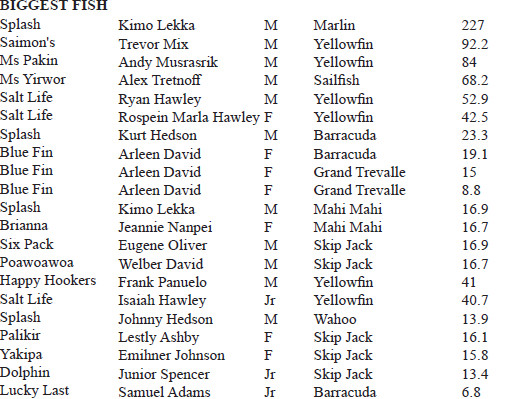 Prizes were distributed as follows:
1. 100 gallons plus rod and reel
2. 75 gallons
3. 60 gallons
4. 50 gallons
5. 40 gallons
6. 35 gallons
1st 2nd
Yellow Fin 25 10
Wahoo 25 10
Mahi Mahi 25 10
Skip Jack 25 10
Barracuda 25 10
Grand Trevalle 25 10
Lady Angler 25 10
Junior Angler 25 10
There was one change in the awards from what was announced during the weigh in. Isaiah Hawley should have won the junio angler with a 40.7 pound yellow fin, but he was awarded second place instead. Vital made up the difference and gave him his 25 gallon winning prize.
Congratulations to Kimo Lekka and Dr. Hedson on Splash for landing a 227 pound marlin.
After the weigh-in Vital sponsored a barbecue. They also donated $500.00 to the Pohnpei Public Library in place of the usual Library fundraising.
As usual we want to thank all the people who helped out, Bill, Tina, Francisco, all of Kumer's guys, and the awards girls.
Many thanks to Vital, as it was a very big and successful tournament. Thanks again.
The next tournament will be the Yamaha tournament on July 2.