Pohnpei leaders break ground on Liduduhniap tourism project
Details

Category: News
Published: Saturday, 06 August 2016 12:18
Written by Bill Jaynes
Hits: 2114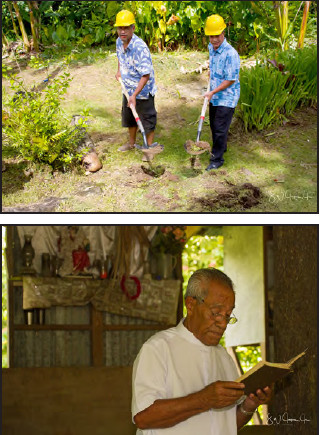 By Bill Jaynes
The Kaselehlie Press
July 15, 2016
Pohnpei, FSM—Pohnpei's Governor Marcello Peterson and Mr. Robert Hadley, representative of the Mallarme Family Estate, broke the ground on an access revitalization project at the entrance to the trail to the Liduduhniap Waterfall in Nett.
The $75,000 project is designed to provide visitors safer and more convenient access to both the upper and lower falls of the Liduduhniap waterfall group. Over the years there have been deaths at the falls, some of them due to the access trails to the sites. The idea is to give tourists the sense of adventure that a journey to the falls brings while also keeping visitors as safe as possible.
The $75,000 contract was split into three parts.
E.N.O. General Construction Co. won the trail rehabilitation and sanitary facilities portion of the project for $30,000.
Pacific Landscaping, Engineering and Construction Co. will build the admission booth, upper pool picnic hut, lower pool viewing deck, and lower pool covered observation platform for $42,500.
The College of Micronesia Entrepreneurial studies will provide the training for two of the owners family, to operate the falls as a small business for $2,500.
The road to the falls itself that passes the Nan Pil Hydroelectric Plant is still in very bad condition but Marshall Ferrin of the U.S. Peace Corps who has been helping to coordinate the project says that funding has been passed to completely rehabilitate that road as well for much easier access.

Mr. Hainrick Stevenson served as the Master of Ceremonies for the groundbreaking ceremony. Deacon Augustine Damarlane gave the invocation. Mr. Peteriko Hairens, Nett District Administrator spoke about the importance of the program. Mr. Robert Hadley, representing the Mallarme Family Estate spoke of the importance of the falls in Pohnpei Culture. Governor Marcelo Peterson of the first Public Private Partnership Waterfall Project talked about the value to Pohnpei of the project as a model for attracting tourists to Pohnpei.
After the groundbreaking a short tour of some of the work that had already been accomplished was conducted.
LUDUDUHNIAP WATERFALL PROJECT
GROUNDBREAKING JULY 15, 2016
PROGRAM (30 minutes)
Opening Ceremony – Master of Ceremony. Mr. Hainrick Stevenson, Public Affairs/PSG
Prayers – Deacon Adelino Lorens, Acting Administrator Office of Economic Affairs/PSG
Welcoming Remarks- Mr. Peteriko Hairens, Nett District Administrator
Significance of Lududuhniap Waterfall in Pohnpei Culture – Mr. Robert Hadley, Represenative of the Mallarme Family Estate
Review of the First PPP (Public Private Partnership)Waterfall Project /Value to Pohnpei as a model for attracting tourists – The Honorable Governor, Marcello Peterson
Keynote Speaker/Mahsen – Iso Nahnken en Nett, Mr. Salvador Iriarte
Ground Breaking Governor Peterson and Robert Hadley
Group Photo