After very nearly four years in the FSM US Ambassador Doria Rosen retires
Details

Category: News
Published: Saturday, 06 August 2016 12:23
Written by Bill Jaynes
Hits: 2608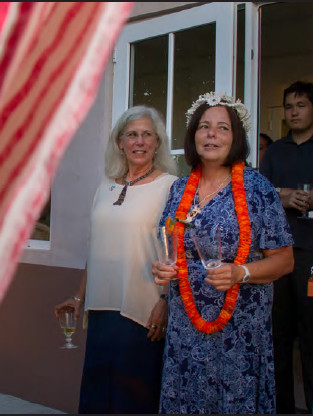 By Bill Jaynes
The Kaselehlie Press
July 18, 2016
Pohnpei, FSM—On Monday, July 18, the Embassy of the United States to the FSM hosted a farewell reception for Ambassador Doria Rosen. It also served as a welcome to newly arrived Deputy Chief of Mission Joanne Cummings.
Ambassador Rosen presented her credentials to then President Manny Mori on August 17, 2012.
During her remarks she said that she has reached a new phase in her life—retirement. "For the first time I will be homeless, carless, jobless, and phoneless," she joked. She also said that she had enjoyed all of her many engagements with the people of the Federated States of Micronesia and refused to say "goodbye". She chose instead to say "see you later" with a winsome little wave.
Before coming to the FSM as Ambassador, Dorothea-Maria (Doria) Rosen, who was a career member of the Senior Foreign Service, served as the Diplomat-in- Residence for the Midwest region based out of the University of Illinois at Chicago.

Prior to that position, she was the Deputy Principal Officer in Frankfurt, Germany. From 2004 to 2008, Ms. Rosen served as the Consul General in Bern, Switzerland. From 2001 to 2004, she was Deputy Chief of Mission in Reykjavik, Iceland. Other overseas positions included: Visa Branch Chief in Frankfurt, Germany (1996- 1999); Nonimmigrant Visa Chief in Manila, Philippines (1994-1996); Political Military Officer in Berlin, Germany (1991-1994); Consular Officer in Accra, Ghana (1989- 1991); Deputy Chief Immigrant Visa Section in Seoul, South Korea (1988-1989); and Vice Consul in Stuttgart, Germany (1983- 1986) and Bucharest, Romania (1981-1983).
In Washington, Ms. Rosen served as Director of the Office of Public and Diplomatic Liaison in the Bureau of Consular Affairs (1999-2001) and as an analyst in the Bureau of Intelligence and Research (1986-1988).
Prior to entering the Foreign Service, Ms. Rosen served as an Army Reservist from 1979 to 1981. From 1976 to 1979, she served on active duty in the U.S. Army Judge Advocate General's Corps in Heidelberg, Germany. She holds an A.B. from Vassar College and a J.D. from Hofstra University Law School.
She has studied French, Romanian and German. Ambassador Rosen has three grown children: Michael, Thomas, and Katharine.
During her remarks DCM Joanne Cummings said that she looks forward to the many challenges and opportunities that she will work with the FSM people on during her time in the FSM.
Cummings, the daughter of a representative of the US Foreign Services, spent the majority of her career and most of her childhood in Middle Eastern countries.
Ambassador Rosen is scheduled to depart the FSM on July 20.