Pohnpei students learn how to "Create Stories of Nan Madol"
Details

Category: News
Published: Saturday, 06 August 2016 12:28
Written by Bill Jaynes
Hits: 3134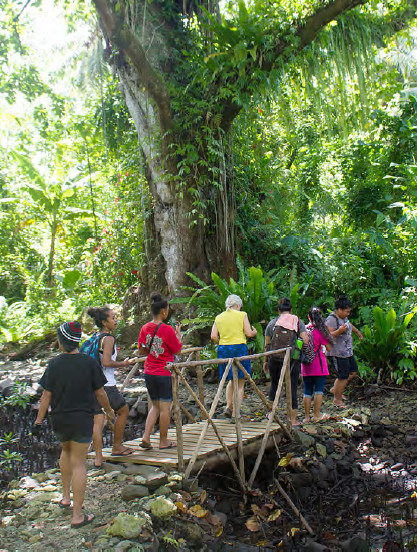 By Bill Jaynes
The Kaselehlie Press
July 21, 2016
Pohnpei, FSM—The day that UNESCO declared Pohnpei's Nan Madol to be a World Heritage site also marked the first day of a free workshop for students to teach them how to effectively tell its story. 17 students enrolled with varying degrees of enthusiasm for the workshop.
The class featured guest speakers including Dr. Rufino Mauricio, Director of the FSM's Department of Historic Preservation.
The workshop offered training in photography, videography, writing and story telling. To communicate with each other and for peer review of stories, students communicated on a closed group in Facebook.
The workshop was hosted by the Pacific Resources for Education and Learning (PREL) and the College of Micronesia FSM, in partnership with UNESCO which will be publishing the work outcomes on its website.

The workshop was taught by Dan Lin, PREL Senior Specialist for Research and Policy for the Pacific Storytellers Cooperative. The Pacific Storytellers Cooperative is a website that provides a platform for place-based stories from the Pacific Islands to be shared with a global audience. This multimedia effort organized by Pacific Resources for Education and Learning embraces the rich Pacific storytelling heritage and brings it into the internet age.
The Cooperative seeks to find the nexus between oral traditions of island communities and present-day modalities of communication, especially among Pacific youth. Recognizing that storytelling is an embedded part of Pacific and indigenous cultures generally, the Cooperative aims to encourage the younger generations to tell their stories, while utilizing greater levels of connectivity and improved technical capacity.
The workshop featured an outing to Nan Madol on Wednesday during which students attempted to take photos that would support their written stories in multi-media format. Interestingly for many of the students, many of whom were born and raised in Pohnpei, it was the first time for them ever to visit what is widely considered to be the birthplace of Pohnpei's modern traditional leadership structure and Pohnpei's society.
Lin is not only a motivated and passionate teacher who encouraged the students every step of the way during the workshop, but he is also a professional photographer of the highest caliber. Though he didn't have the resources to teach a full photography course, his experience as a National Geographic Explorer photographer and writer obviously showed in the 366 photos we received for publication consideration this evening; that and for some very good eyes amongst the students.
Though The Kaselehlie Press doesn't have the space resource that the UNESCO website will have, we will try to continue to print the students' stories on the ongoing saga of Nan Madol in upcoming issues highlighted with the student's own photos. The first of those follow -see
The Gateway to the Sacred City
see also:
Reflections on my trip to Nan Madol