Scant fish but fun times at LPG/Seven Stars fishing tournament based on Ahnd
Details

Category: News
Published: Saturday, 06 August 2016 12:48
Written by Pohnpei Fishing Club
Hits: 1721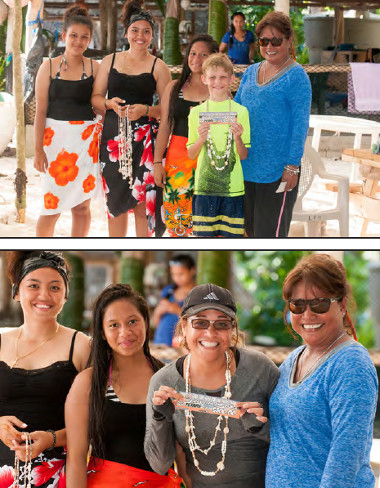 Pohnpei Fishing Club
July 16, 2016
Ahnd, Pohnpei—29 boats registered for the fishing tournament based on Ahnd Atoll on July 16. Ahnd is a marine preserve and certainly no fishing was done there. Apparently there wasn't a whole lot of productive fishing done anywhere else either. Prizes were awarded only for "point fish" and though five top prizes were available to be won, only four were awarded.
"Point fish" must meet a pre-determined minimum weight before they can be counted. For instance, for a Marlin to qualify as a "point fish", it must be a minimum of 100 pounds. Not many point fish were caught during the tournament on Saturday.
Still, the participants had great weather and a great time. The fish weren't as cooperative as we would like, but definitely no one went hungry.
Most of the boats checked out from Ahnd Atoll but some checked out from the still new boat ramp in Dekehtik. Weigh in was held at Ahnd and many of the fishers arrived at Ahnd on Friday night and didn't leave until Sunday.
The tournament was sponsored by Pohnpei LP Gas, 7 Stars Inn and Restaurant, Hot Plate. Ambros/Shimbros also supported the tournament with a 12 pack of Budweiser for each boat.
The club also had a barbecue after the weigh in on Saturday night.
Snighter James won the $800 top prize for his 307 pound marlin. Rosa Weilbacher grabbed the $500 second place prize with a 24 pound Wahoo. Dane Nighswander landed a 23.8 pound barracuda and took home the $300 third biggest fish prize. Konrad Englberger nabbed a 23.4 pound Wahoo for the $200 fourth biggest fish prize. The $100, fifth biggest fish prize was not awarded.
The golden ring for the tournament was a $1500 rollover prize if anyone had caught a marlin bigger than the club record of 450 pounds. The 307 pound marlin wasn't enough to snag that prize which will increase as time goes on.
The club would like to thank the many people who helped us at Ahnd. It was a great weekend and was a lot of fun.
Once again we also thank the sponsors and everyone else involved, especially the people who helped with the weigh in and helped us to dock the boats. Also, a special thank you to Tina Albert for going out to be the record keeper is well deserved.
This will be a busy month as we have the kids tournament planned for July 30 and the Matson for August 20.