Doctors from China's Guangdong Province offer assistance in Pohnpei
Details

Category: News
Published: Saturday, 06 August 2016 12:55
Written by Bill Jaynes
Hits: 1718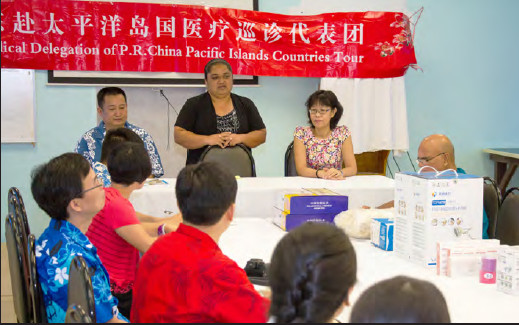 By Bill Jaynes
The Kaselehlie Press
July 19, 2016
Pohnpei, FSM—A team of nine doctors and supporting staff members arrived in Pohnpei yesterday to serve at the Pohnpei State Hospital over the next week. This morning they held a welcoming meeting with Acting Director of Health Services Dr. John Hedson to introduce themselves and to describe some of the services they would be providing including traditional medical techniques such as acupuncture.
The team brought with them several identical sets of luggage full of medical equipment and supplies that they will leave in Pohnpei when they depart on Sunday night.
The doctors are from the Sun Yat-sen Hospital in Guangzhou, Guangdong in the People's Republic of China. One of their speakers said that the hospital has a staff of over 1000 doctors and annually serves over a million patients.
The head of their delegation said that Guangdong has sent Doctors to the FSM each year for several years and that they intend to continue to keep up with that annual tradition.
The medical services they provided were free of charge and according the Embassy of the People's Republic of China included Rehabilitation, Gynecology, Endocrinology (for hormonally caused diseases), B-Ultrasound Examination (which allows thorough examination of the eye) and Stomatology (for diseases of the mouth). One doctor said that she specialized in tumors and cancer.
Dr. Marcelle Gallen from Pohnpei Dentistry served as the Master of Ceremonies during the opening ceremony.