Pohnpei State regains FSM National Law Day Debate Championship
Details

Category: News
Published: Saturday, 06 August 2016 13:01
Written by Kpress
Hits: 2176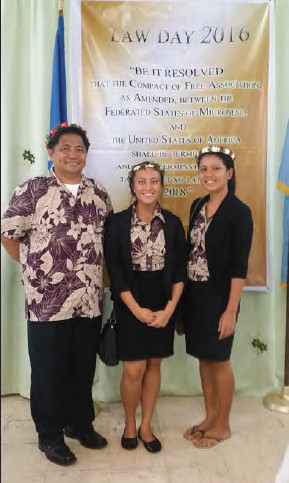 Pohnpei State, represented by Our Lady of Mercy Catholic High School (OLMCHS), won the Championship in the FSM National Law Day Debate held in Kosrae State last July 12, 2016. This annual event is organized and sponsored by the FSM Supreme Court to commemorate the day it was established, July 12, 1981 to be exact. July 12 plays an important role in the history of the FSM. The First Congress of Micronesia was convened in July 12, 1965. Ten years later, or on July 12, 1975, the first Micronesian Constitutional Convention was convened. On the same day in 1978, the FSM Constitution was approved.
The Law Day 2016 started with a short opening program. Kosrae State Governor Lyndon H. Jackson welcomed all the participants and guests. Fr. Fran Hezel was the Keynote Speaker. He shared his historical expertise about the FSM and the Compact of Free Associations from World War II, to the present and his recommendations for the future. Kosrae State Court Acting Chief Justice Chang William closed the program that marked the start of the most awaited debates.
This year's debate proposition was: "BE IT RESOLVED that the Compact of Free Association, as Amended, between the Federated States of Micronesia and the United States of America shall be terminated, and such termination shall take effect no later than 2018." The debaters from each of the four States debated twice, one as proponents (affirmative side), and one as opponents (negative side). The Debate Teams are the following: Team Yap - Yap High School, Leila T. Rrog and Allysha L. Midil (debaters) John A. Mafel (coach); Team Chuuk - Chuuk High School, B.J. James and Julius F.Koto (debaters) Raisa Chiwi (coach); Team Pohnpei - Our Lady of Mercy Catholic High School - Carisma Jano and Asmara Pretrick (debaters) Russell Figueras (coach); and Team Kosrae - Kosrae High School - Mary D. Anton and Judson A. Sigrah (debaters) Benjamin Rasmussen (coach). At the end of the whole day debate, Pohnpei State - OLMCHS emerged as the Champion with a total score of 1,126 points, followed by Team Kosrae (991), Team Chuuk (956), and Team Yap (808). The 2016 Debate Championship was the third for OLMCHS. Since joining the debates in 2011, OLMCHS has won three FSM National Debates (2011, 2013, and 2016) and four Pohnpei State Debates (2011, 2013, 2015, and 2016). The Chairman of the 2016 Law Day Coordinating Committee is Mr. Atarino Helieisar, the FSM Supreme Court Chief Librarian.