Lt. Governor Oliver donates 40 percent of his salary to uninsured medical patients
Details

Category: News
Published: Thursday, 18 August 2016 07:38
Written by Bill Jaynes
Hits: 2078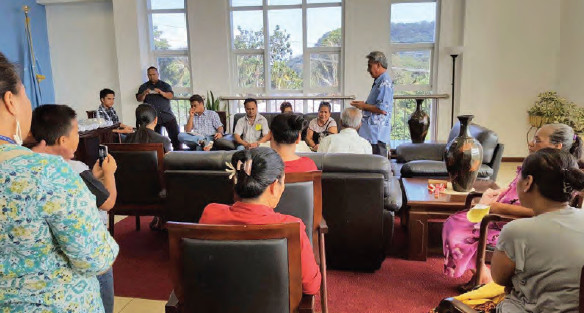 By Bill Jaynes
The Kaselehlie Press
July 22, 2016
Pohnpei, FSM—True to the humble nature of the man, Lt. Governor Reed Oliver wasn't there this morning when his wife and other family members presented $10,000 of his annual salary of $25,000 to the Pohnpei Department of Health. It's 40 percent of his annual salary. He didn't want the recognition. He still doesn't, but such an example cannot simply be ignored and is not an example at all if only a few people know about it.
This morning the Lt. Governor's family presented two checks, each in the amount of $5000. $5000 of the money is to be used for the cost of medicine for outpatients who have no medical insurance or are not covered by some other medical policy "such as farmers, fishermen, small infants, youths, and "etc., etc...," the Lt. Governor wrote in an email that we received by accident.
He intends $5000 of the money to go to help with off-island referrals from Pohnpei to the Philippines, "not for tickets as the amount is not big, but will be given in amounts that can help individuals and family members who are going to PI for medical referral to help cover other small expenses," his email said.
"Knowing the Dollar value versus the Peso, I believe that amount can help a bit," he wrote.
He said that he chose the 22nd of July to present his donation of part of his salary because it falls on his father's (Bermin Oliver) birthday. "Without him I couldn't be where I am today. He started all small things that have enabled me to go to school and (then to) come back and do the things I can do..."
The Lt. Governor's wife, Estelle Oliver presented the checks to his sisters who in turn presented the checks to Governor Marcelo Peterson, who then presented the checks to Acting Director of Health Services, Dr. John Hedson.
Lt. Governor Oliver's sense of stewardship is widely known. It is sometimes misunderstood.
Some members of the Legislature recently asked whether it is legal for the Lt. Governor to use his own personal vehicle while on official business. He doesn't use the official vehicle and says that he has provided his own fuel for his own personal vehicle even while on official business.