Sea Cucumber aquaculture project researches ways to make money from sustainable farming
Details

Category: News
Published: Thursday, 18 August 2016 07:49
Written by Bill Jaynes
Hits: 3046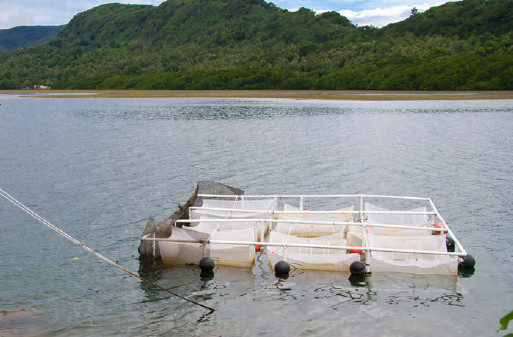 By Bill Jaynes
August 2, 2016
Pohnpei, FSM—On July 20, at the height of the full moon, five female sea cucumbers rose up like cobras and spewed out over 10 million eggs at the carefully and scientifically controlled aquaculture facility at Nett Point. Of those, 49 percent hatched after male sea cucumbers fertilized the eggs—just over 5 million hatches. It will be a long journey before any of those sea cucumbers, the kinds that Pohnpeians eat, will be ready for market. The vast majority of them will die before they ever reach that stage, despite the carefully controlled environment.
The program is culturing "sand fish", locally known as "langon", and curry fish. Both are species that are locally consumed.
On several visits to the NIFA (National Institute of Food and Agriculture) and USDA (U.S. Department of Agriculture) sponsored Land Grant Program at Nett Point in Pohnpei, Dr. Manoj R. Nair shined a flash light into the spawning pools to show me the sea cucumbers growing there in the first stage of their growth process . "Look at where the light is shining", he said. "You'll see tiny little creatures on the bottom."
Each time I smiled and nodded, but I have to admit that I was shining him on. I couldn't see them unless they were the things that looked like tiny little grains of sand on the bottom of the tanks. He assured me that there were hundreds of thousands in each tank.
He said that stage of growth is about the time that some sea cucumber "farmers" dump the larva into the ocean and say that they have "farmed millions of sea cucumbers" to support their intended harvest.

But Dr. Nair says it's much more complicated than making sure that eggs have been fertilized. They still have to survive and it would be hard for the tiny, almost invisible larva to do in the wild.

Sea cucumbers are ready for harvest at about 350 to 400 grams, approximately two years from the time that they are spawned. It's no small investment in time.
In the controlled environment of the aquaculture lab, larva are fed only after experts have determined that they are ready, and then only on carefully monitored Spirulina covered plates. The water in the tanks is changed on a regular basis and the larva are moved from tank to tank as they progress in their development. In that controlled environment, less than 5% will make it as far as a sea cucumber farm. Even after that point, more will be lost before they are ready for harvest.
Dr. Nair said that sea cucumbers must be at least 30 grams in size before being released to farms. The "farms" are also carefully controlled environments and must be checked constantly. In each farm, approximately 90 tiny sea cucumbers each are placed into nine net bags per farm with holes only 900 microns in size. Farmers must constantly check for predators like crabs and get rid of them when they are found.
But crabs are not the only predators of sea cucumbers. Dr. Nair said that they found a perfect site in Sekere for a sea cucumber farm that had the required sandy sea bottom. Farmed sea cucumbers will not survive in sea bottom of rubble. He said it was the perfect place but they can't use it any more. In 2014 they planted approximately 1000 sea cucumbers off the shore of Sekere. Every single one of those sea cucumbers was stolen before they were at harvest size.
They haven't returned a farm to that site, but they have several others. The program currently has a farm at Nihco Marine Park and hopes to have another soon. They have a farm at Mhawd Peisi island that requires daily monitoring by staff members to eliminate crab populations that encroach on the farm. There is another farm on an island off of Palikir. Currently there is one farm at Nett Point but on the date of our last visit, trainees were setting up another adjacent farm. Dr. Nair said they had negotiated another farm not far away in Pali Powe which also has good sandy bottom for sea cucumber cultivation.
There are still more predators. Climate change may well be one of them. Dr. Nair said that Pohnpei experienced unusually low tides after Tropical Storm Dolphin in 2015. The program lost every single one of the sea cucumbers in every one of its farms as a result of that climactic event.
It's the goal of the program to try to find a way to make money from the farmed cultivation of sea cucumbers and other marine animals but Nair is quick to point out that the program is hampered by more than just environmental matters. In some ways it has been hampered by political matters.
The much talked about "Sea Cucumber law" of 2014 allowed the Office of Fisheries and Aquaculture (OFA) to generate a set of regulations. In those regulations, OFA requires any person who is pursuing an aquaculture project to pay $25,000 a year to a Fisheries Development Fund before operational taxes. Dr. Nair says that regulation essentially eliminates most people from investing in aquaculture.
"Who can afford to pay $25,000 a year," he exclaimed. "How can anyone make money if they have to pay $25,000 every year before they've invested a cent?"
Legislators in Yap recently considered a bill that would have required a 100% closure of sea cucumber harvesting. That law would have effectively closed the Land Grant Sea Cucumber aquaculture project there. Yap already has a law on the books that bans sea cucumber except during open seasons which are to be announced by the government. They haven't done so in quite some time. But after a local was arrested and charged with illegal sea cucumber harvesting, lawmakers were apparently concerned that the law wasn't working and so sought to completely eliminate any and all sea cucumber harvesting.
An employee of the Land Grant Aquaculture project in Yap has been in Pohnpei training with Dr. Nair. Palau also sent trainees for their project. The trainee in Yap said that he is closely related to one of the Yap lawmakers who was behind the bill and was told that even though the aquaculture project is located right behind the legislative chambers, most of the Senators didn't know about it. All they knew was that the law wasn't working and so they wanted to pass a more stringent law.
However, the problem with the old law wasn't that it wasn't strict enough; it was that Yap has very few resources to enforce it. Witnesses to the public hearing in Yap on that law pointed out that making a more stringent law wouldn't solve that problem and would also kill the aquaculture project.
The law didn't pass but we're told that legislators are re-thinking the wording of the law, hopefully to allow for the aquaculture project to continue.
The Land Grant aquaculture program has full time staff members and also utilizes interns from the College of Micronesia FSM's Marine Sciences program. Dr. Nair says that it's really his job to work himself out of a job and to turn it over to locals to do. He feels confident that he's definitely moving in that direction.