Filipino organization crowns Little Miss KBP and runners up
Details

Category: News
Published: Thursday, 18 August 2016 08:40
Written by Janice Warren
Hits: 2358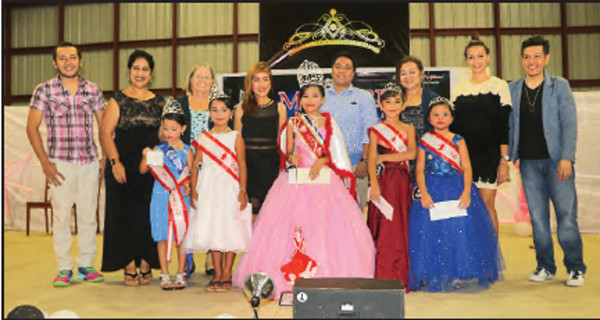 By Janice Warren
July 31, 2016
Pohnpei, FSM—The search for Little Miss KBP Pohnpei culminated in the coronation of Little Miss KBP Pohnpei 2016 during the Grand Coronation Night pageant held at the Our Lady of Mercy gymnasium on Sunday night, July 31, 2016. The program was open to the public and was well attended by Filipino and other members of the Pohnpei community.
KBP stands for "Katilingbang Bisaya sa Pohnpei", which is a non- governmental and a Filipino regional organization based in Pohnpei composed of Visayan- speaking Filipinos who come from the Southern part of the Philippines. KBP coordinates regular community events. The Little Miss KBP event supports fund raising for medical outreach programs to the different communities in the State of Pohnpei.
Five local female residents aged between 5 and 10 years old were selected for the pageant and sold tickets to the event. Sponsors for the event included Genesis Hospital and Pharmacy, Western Union, Caroline Fisheries Corporation (CFC), Black Sand Techtronics, XIX Store Kolonia and Awak, Pohnpei Transfer & Storage (PT&S), FSMTC, Angie"s, Pohnpei Electronic Outlet, Etscheit Enterprises, MJ Tailoring, Jenny's Salon, RJ Electrical Services, 7Stars Hotel, Arnold's Pizza, PLEC, Grace Special Bakery, Carolines Dental and Pharmaceutical Center, Mr. Manny San Jose and Mr. Jojo Pulmano.

During the night's festivities, a raffle was held for those who purchased tickets. A portion of the funds raised was used for the raffle and for awarding to the pageant participants. The remainder was allocated to the KPB fund for medical missions in Pohnpei.
The pageant contestants each performed a talent and did a photo shoot during the pageant and engaged in singing and dancing routines. The gymnasium was elegantly decorated for the event, which was thematically tied by the selection of music for the event and its "coronation" activities to the movie "Frozen."
At the end of the night, Mary Joy A. Serrano was crowned by a panel of local judges as Little Miss KBP Pohnpei 2016. Gabriella S. Gallen was awarded 1st Runner Up and also received the Photogenic Award. Charlyne R. Pabon was 2nd Runner Up. Sharsi G. Ruth Inding was 3rd Runner Up and awarded as Miss Personality. Audrey G. Leparto won 4th Runner Up and also took home the best talent award and Miss Little Facebook Award.
The intended Medical outreach will be composed of volunteered doctors, nurses and other Medical Teams to give free consultation and medicines for the patients. The medical outreach to be conducted with proceeds from this event will fulfill the KBP's mission to provide support to the local government and community