47th Pacific Islands Forum Leaders Meeting 7th - 11th September 2016
Details

Category: News
Published: Thursday, 08 September 2016 12:24
Written by Kpress
Hits: 3690
click to view the original PDF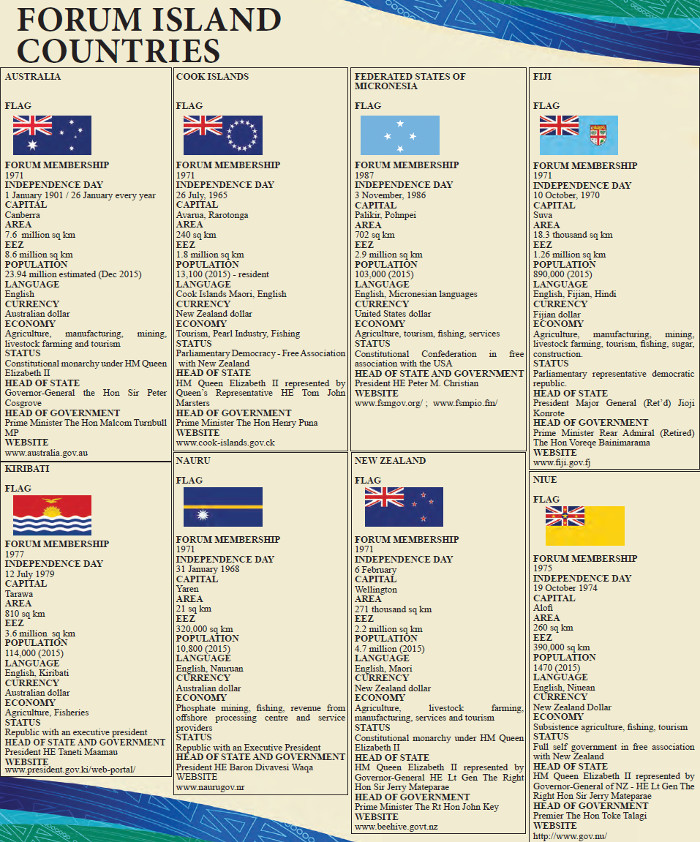 08 SEP 2016
This week the 47th Pacific Islands Forum Leaders Meeting is taking place in the Federated States of Micronesia. The Pacific Islands Forum is the region's premier political and economic policy organisation. Founded in 1971, it comprises 16 independent and self-governing states: Australia, Cook Islands, Federated States of Micronesia, Fiji, Kiribati, Nauru, New Zealand, Niue, Palau, Papua New Guinea, Republic of Marshall Islands, Samoa, Solomon Islands, Tonga, Tuvalu, and Vanuatu.
Associate membership to the Forum is currently held by French Polynesia, New Caledonia and Tokelau. Forum Observer status is with Wallis and Futuna, the Commonwealth, the United Nations, the Asia Development Bank, the Western and Central Pacific Fisheries Commission, the World Bank, the African Caribbean and Pacific Group of States, American Samoa, Guam, the Commonwealth of Northern Mariana Islands, and the International Organisation for Migration. Timor Leste is a Special Observer.
The Forum's Vision is for a pacific region of peace, harmony, security, social inclusion and prosperity, so that all Pacific people can lead free, healthy, and productive lives.

The Pacific Islands Forum works to achieve this by fostering cooperation between governments, collaboration with international agencies, and by representing the interests of its members.
Since 1989, the Forum has held Post-Forum Dialogues with key Dialogue Partners at Ministerial level. There are currently 17 partners: Canada, People's Republic of China, Cuba, European Union, France, India, Indonesia, Italy, Japan, Republic of Korea, Malaysia, Philippines, Spain, Thailand, Turkey, United Kingdom and the United States.
The work of the Forum is guided by the Framework for Pacific Regionalism which was endorsed by Leaders in July 2014. It sets out the strategic vision, values, objectives and approaches to achieve deeper regionalism in the Pacific. Pacific regionalism is recognised by leaders as:
The expression of a common sense of identity and purpose, leading progressively to the sharing of institutions, resources, and markets, with the purpose of complimenting national efforts, overcoming common constraints, and embracing sustainable and inclusive development within Pacific countries and territories and for the Pacific region as a whole.
The Framework for Pacific Regionalism supports political conversations and initiatives that address key strategic issues. All Pacific people have an important role to play in regionalism, and to support this principle the Framework articulates a regional public policy process that is intended to generate initiatives that foster deeper regionalism. The Framework also encourages prioritisation of the Forum Leaders agenda to ensure that Leaders have the time and space to drive these initiatives forward.
The annual Forum meetings are chaired by the Head of Government of the Host Country, who remains as the Forum Chair until the next meeting. Decisions made by Leaders are reached by consensus and are outlined in a Forum Communique, from which policies are developed and implemented.
The Pacific Islands Forum Secretariat is mandated to coordinate the implementation of Forum Leader's decisions. The Secretariat is based in Suva, Fiji, and is led by the Secretary General (currently Dame Meg Taylor of Papua New Guinea) who is directly responsible to the Forum Leaders. The Forum Officials' Committee (made up of representatives from all Forum Governments) is the governing body for the Secretariat and has oversight of its activities. The Secretariat is funded by contributions from member governments and donors.
The Secretary General of the Forum Secretariat is permanent Chair of the Council of Regional Organisations in the Pacific (CROP). CROP functions as a coordination mechanism between the heads of the regional organisations in the Pacific, and as a high-level advisory body, to provide technical expertise and policy advice at national, regional and international level. The nine members of CROP are:
Pacific Islands Forum Fisheries Agency (FFA)
Pacific Islands Development Programme (PIDP)
Pacific Community (SPC)
Pacific Islands Forum Secretariat (PIFS)
Secretariat of the Pacific Regional Environment Programme (SPREP)
South Pacific Tourism Organisation (SPTO)
University of the South Pacific (USP)
Pacific Power Association (PPA)
Pacific Aviation Safety Office (PASO)

In 2014, Leaders of the Pacific Islands Forum endorsed a Pacific Vision thatwas for a region of peace, harmony, security, social inclusion, and prosperity,so that all Pacific people can lead free, healthy , and productive lives.The Framework for Pacific Regionalism represents their long termcommitment to deeper regionalism as a means to achieving this vision. Fourprincipal objectives underpin this commitment: sustainable development,economic growth, strengthened systems, and security for all.The Framework sets out a number of ways in which ambitious andtransformative initiatives best addressed through a regional approach canbe identified. Governments of the Pacific, through existing Ministerialand Officials' driven processes are one important avenue. Another is theregional public policy consultation process. Through these mechanismsthe Framework provides a political platform that enables Forum Leaders toassert their collective sovereignty over the Pacific Vision into the future.Regionalism can be expressed in a number of ways:• Regional Cooperation consists of regional agreements betweennational governments, where implementation is left at the nationallevel. This has been the primary vehicle for regionalism in the Pacificsince the 1960s.• In some instances cooperation has led to Regional Delivery andRegional Service Provision such as the University of the South Pacificand its regional delivery of tertiary education.• Economic and Political Integration represent two forms of deeperregionalism that can lead to shared sovereignty, shared political andlegal institutions, and increased flows of people, goods, and capital.PACER Plus represents the region's efforts to achieve an agreementtowards greater economic integration, while tangible efforts towardsgreater political integration are still to be attained.Deeper regionalism requires coherence and conformity across regionalstakeholders. The Framework prioritises the regional political agenda, andin doing so provides all stakeholders the opportunity to align their strategicdirection and resources behind it.Implementation of effective forms of regional cooperation and integrationis underpinned by emphases on:• Greater political oversight and discussion by Forum Leaders around keyissues such as political settlements, pooled resources and sovereignty,and what is to be gained and forfeited for the greater regional good.• Ensuring focused political discussion takes place that considersonly issues best serviced through a form of regionalism. This doesnot downplay the importance of other issues that are not considered through the processes articulated in the Framework,but recognises that they may be best addressed at thenational level or through a multi-country approach.• Promoting a more inclusive approach to regional publicpolicy development. The regional public submissionsprocess set out in the Framework enables coherentand meaningful public engagement in regionalism. Inaddition, through mechanisms like the Private SectorRoundtable, and the Civil Society – Forum TroikaDialogue, Pacific communities are connected withregional decision makers.