OPA finds real risk for potential fraud and misuse of government purchased prepaid calling cards
Details

Category: News
Published: Tuesday, 04 October 2016 13:08
Written by Bill Jaynes
Hits: 1912
By Bill Jaynes
The Kaselehlie Press
September 19, 2016
Pohnpei, FSM—FSM's Office of the Public Auditor has concluded that the potential for employee abuse of government purchased TelCards is high and that no effective system has yet been put into place to guard against it.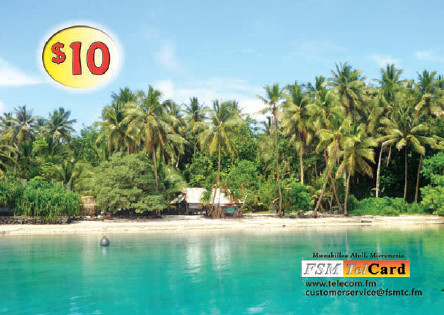 The audit's first finding was that there is an absence of written policies and procedures governing the purchase and use of prepaid telephone cards. The audit reviewed the three departments with the highest TelCard expenditures in fiscal year 2014 which amounted to a combined total of $78,504 and the same departments in 2015 which had a combined total of TelCard expenditures of $87,572. The audit noted that except for one program in one department which maintained an incomplete log sheet for TelCards, the departments did not maintain records that would provide information on the quantity received or issued, nor an inventory balance.
Though call history can be retrieved online from FSM Telecom for any TelCard, a search of the history requires both the card number and the pin number, but those numbers were not recorded when TelCards were issued.

Under the first finding, the auditor concluded that it is not clear whether employees were encouraged to explore no or low cost alternative methods of communication such as Facebook Messenger, Skype, Yahoo Messenger, and others.
Finding number two in the audit said that the purchases of prepaid calling cards appeared to be excessive and provided examples in an appendix.
The audit says that there was also waste in that some of the cards had been allowed to expire. It said that it found 59 unused nonrefundable and non-returnable prepaid calling cards with face value of $5 per card for a total of $310 that had expired.
The FSMTC marketing department said that expired cards can in fact be renewed and that cards don't expire while sitting on a shelf or in a cabinet.
The third finding in the audit said that government purchased prepaid calling cards were used to "share loads". Auditors reviewed the calling history of a total of seven calling cards totaling $1477 and found that five cards' balances totaling $1300 were transferred or shared to other cell phones belonging to employees' family members, friends or relatives. Many of those transfers occurred after working hours.
The audit also revealed that one manager told them that it is difficult to keep track of calling card usage because oftentimes calling cards were given to employees as gifts or incentives to attend workshops or trainings.
"Sharing of balance and using prepaid calling cards after office hours without authority ha(s) increased the risks of fraud, abuse and misuse of funds for the cards. However, the management may not be aware of or be able to prevent them," the audit said.
The Secretary of Finance and Administration concurred with all of the findings and said that the department is working on written policies and procedures regarding TelCard purchase and use that they will distribute soon. The Secretary wrote that a prohibition against "load sharing" will be included in those policies and procedures.