Pacific nations open summit with eye on climate fight
Details

Category: News
Published: Tuesday, 04 October 2016 13:16
Written by PACNEWS
Hits: 1789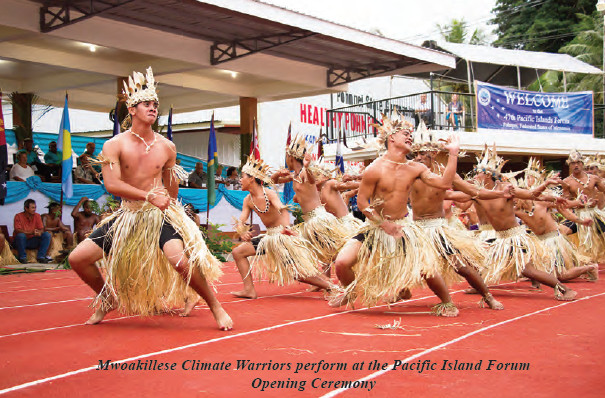 PALIKIR, 09 SEPTEMBER 2016 (AFP) --- Pacific island leaders opened their annual regional summit Thursday with a colourful ceremony in Micronesia, as some of the world's smallest nations vowed to put up a big fight against climate change.
Members of the 16-nation Pacific Islands Forum (PIF) were greeted by traditional dancers in grass skirts at the meeting's opening in the Micronesian capital Palikir.
The event included a sakau-sharing session, where local elders consume the mildly narcotic drink better known as kava, as well as a Christian invocation in the deeply religious country.
The PIF nations face a range of serious issues when the summit gets down to business, ranging from over-exploited fisheries to poverty and an obesity epidemic.

But they agree that the most pressing problem is climate change, which threatens the very existence of some low-lying PIF members such as Kiribati and Tuvalu.
The PIF's prominent lobbying played a key role reaching a deal at last year's Paris climate talks, which was finally ratified by Washington and Beijing -- the world's two biggest polluters -- last weekend. "The Paris agreement and the praise that has come to the Pacific people for their relentless effort to bring attention to the subject and capture even the sceptics is a gold medal not to be denied," Micronesia President Peter Christian told the ceremony.
Cook Islands Prime Minister Henry Puna said the countries on the frontline of climate change must now keep up the pressure.
"Whilst the Paris Declaration was a milestone decision, the imperative is now to mobilise a global action plan to mitigate against the effects of global warming," he said after arriving on the main island Pohnpei.
"In this respect, as a region with some of the most vulnerable countries to the effects of climate change, it is important the Pacific continue to advocate strongly for global action on climate change."
The theme of this year's meeting is "Small and Far" -- a reference to the economic challenges facing the isolated island nations.
But Marshall Islands President Hilda Heine said the tiny nations would not back away from an issue that threatens their future.
"Some of the smallest and most vulnerable countries on the planet have said loud and clear that even with the Paris agreement in-hand, the fight against climate change is as urgent as ever before," she said.
"Once again, we have committed to lead the world and pursue ambitious action to reduce emissions."
The meeting lasts until Saturday and is followed on Sunday by meetings with observer nations including the United States, China, the European Union and India..... PACNEWS