Smaller island states discuss joint bid to Green Climate Fund
Details

Category: News
Published: Tuesday, 04 October 2016 14:26
Written by Nic Maclellan
Hits: 1869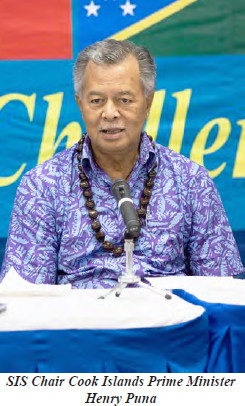 By Nic Maclellan in Pohnpei, Federated States of Micronesia
PALIKIR, POHNPEI 09 SEPTEMBER 2016 (ISLANDS BUSINESS) --- Pacific leaders from smaller island states are considering a joint approach to the Green Climate Fund (GCF), the new global fund to assist developing countries respond to the adverse effects of climate change.
As leaders from the 16 member countries gather in Pohnpei for the 47th Pacific Islands Forum, the issue of climate finance is an ongoing concern for countries devastated by cyclones, ocean acidification and other extreme weather events.
Cook Islands Prime Minister Henry Puna said: "Climate finance of course is very, very important for the smaller island states - as it is for all Pacific countries. However it is especially so for the smaller island states, because of our vulnerability and our fragility and the fact that we are right at the frontline off the impacts of climate change. "
As leaders of Smaller Island States (SIS) held their annual pre-Forum meeting, there was extensive discussion about the difficulties of obtaining the financial and technical resources needed to adapt to climate change.
As incoming chair of the SIS group, Puna said access to the GCF and other multilateral funds was a constant worry for small states, which often lack technical and scientific resources to prepare submissions for funding.
"One of the ways that was put forward was for us to consider a joint approach to submit applications to the GCF," he said. "Perhaps by doing that we might have some success in terms of getting some much needed resources from GCF."

Puna added: "The joint approach acknowledges one reality that is common to all the smaller island states – the lack of human resources to work on funding proposals. As you'll appreciate, these funding proposals are very complicated and in many cases are beyond the capacity of many states where human resources are lacking."
Even after the signing of the Paris Agreement on Climate Change, Forum island countries continue to press for extra resources to transform their energy systems using renewable energy, as well as adapt to climactic effects on health, agriculture, fisheries and livelihoods.
The Paris Agreement calls on donors and funding institutions "to enhance the coordination and delivery of resources to support country-driven strategies through simplified and efficient application and approval procedures."
At the SIS special summit in Palau on 24 June, SIS Leaders stressed the need for "a collective, coordinated and targeted approach between SIS and relevant partners to identify options to improve and expedite access to climate financing to address economies of scale, including through an SIS joint proposal to relevant climate financing arrangements and support for its subsequent implementation."
Meeting last week with US President Obama in Hawaii for the Pacific Island Leaders Conference – a precursor meeting to this week's Forum – island leaders again stressed the difficulty of accessing climate finance.
The PILC communique noted: "We seek the US's political support to facilitate simplified access to climate finance for the Pacific island region, through the Green Climate Fund Board, and other climate finance entities. We further encourage the US Government to meet its pledge under the Green Climate Fund."
The same message will be carried to this Saturday's leaders' retreat, where Australian Prime Minister Malcolm Turnbull and his New Zealand counterpart John Key will join with island leaders.
Australia and Samoa are well placed to assist this process. Australian foreign affairs official Ewen McDonald serves as Co-Chair of the GCF Board, while Samoa's Ambassador to the United Nations Ali'ioaiga Feturi Elisaia is the Small Islands Developing States (SIDS) representative on the Board.
In principle, this new global fund is designed to allow national institutions to gain accreditation and lodge proposals for support. Once accredited, they can access and administer financial resources directly from the Fund.
A major challenge remains the accreditation of national and regional institutions from the Pacific. By June 2016, 33 entities around the world had been accredited to the GCF, but currently the Pacific Regional Environment Program (SPREP) is the only regional organisation accredited as a Direct Access Entity.
Only Fiji and Tuvalu have currently had GCF grants approved, although other nations like Vanuatu and Cook Islands are undertaking "readiness" activities to prepare proposals.
In partnership with the Asian Development Bank (ADB), Fiji will receive a US$31 million grant for Urban Water Supply and Wastewater Management. At its meeting in June 2016, the GCF also approved a US$38.8 million grant for the Tuvalu Coastal Adaptation Project (TCAP), to be implemented by the United Nations Development Program (UNDP).
Despite his country's successful bid for GCF funding, Tuvalu Prime Minister Enele Sopoaga still believes that there are too many roadblocks for smaller island states.
Speaking after this week's SIS meeting, Sopoaga noted: "The hope is that smaller island states could access this funding from the Green Climate Fund as soon as possible, and the procedures and requirements for paperwork would be further reduced, so we can access this important facility to help them adapt to impacts of climate change."
At a recent regional discussion on the GCF in Fiji, Samoa's Ambassador Feturi Elisaia encouraged island nations to be bold, arguing that there are resources available. He said there is no need to stop working with partners like the ADB or UNDP while waiting for national accreditation.
"Tuvalu has already proven that," he said. "Tuvalu worked with UNDP and Fiji has worked with the ADB – the very entities that people are complaining about as if they are taking the money."
Samoa is aiming to assist other Pacific island countries, by hosting a meeting of the GCF Board in Apia later this year. There was previously a GCF board meeting in Barbados in 2014, but this is the first time the GCF Board and Secretariat will come to the Pacific, an opportunity to understand the climate challenges faced by vulnerable communities in our ocean.
Australia's role is co-Chair of the Fund provides potential support, but the predictability of climate funding from Canberra has been a problem in recent years, with former Prime Minister Tony Abbott reluctant to promote strong action on climate change. In 2013, Australia withdrew from its role on the GCF Board, and refused to commit funds to the new global mechanism.
This policy was only reversed after Abbott was replaced by current Prime Minister Malcolm Turnbull, who arrives in Pohnpei on Friday for this week's summit.
At COP20 in Lima, the Australian government pledged A$200 million over four years for the GCF. Then Prime Minister Abbott and Foreign Minister Julie Bishop announced: "The pledge to the Green Climate Fund will facilitate private sector led economic growth in the Indo-Pacific region with a particular focus on investment in infrastructure, energy, forestry ...and emissions reduction programs."
The focus on the role of the GCF in "private sector led economic growth" and investment in infrastructure and energy raises questions about the priority to be given to adaptation funding for Pacific island governments and communities. This concern is reinforced by a 2015 OECD climate financing report, which notes that: "Japan and Australia consider that financing for high efficiency coal plants should also be considered as a form of climate finance."
Any prioritising of clean coal technology to large Asian nations like China, Indonesia and India will distort the already constrained climate financing package away from crucial adaptation needs in Pacific island nations, where there is limited potential for significant private sector co-financing.
While Australia already has a rough balance between funds allocated for adaptation and mitigation, New Zealand currently allocates an estimated 80 per cent of its climate finance towards renewable energy projects, rather than initiatives to help people prepare for disasters and adapt to long term environmental changes.
Despite tough economic times, the two largest Forum members will need to increase their allocations, in order to meet their fair share of the global climate finance target (US$100 billion in public and private funds each year, by 2020).
In Paris last December, Prime Minister Turnbull pledged A$1 billion over the next five years – but this headline figure still means that the level of Australian funding has remained relatively steady since 2010, averaging A$200 million per year. In contrast, OECD countries like France, Germany and the United States significantly increased their funding in the lead up to the Paris Agreement, while large developing nations such as China have also agreed to contribute to global funding initiatives.
Currently, climate funds pledged by Australia are drawn exclusively from its overseas aid budget. However, since 2013, Australia's aid budget has fallen four times in a row, currently down to 0.23 per cent of gross national income (the lowest level in history). Cutbacks in the level of aid have meant a lack of predictability in funding, which makes it difficult for Pacific governments and NGOs to make commitments towards long-term planning, budgeting, recruitment and training of staff.
Despite these challenges, Pacific officials working on climate finance are positive about the opportunities to gain further resources.
In Fiji last July, Samoa's Ambassador Feturi Elisaia says that the GCF had learnt a lot from the operation of other funding mechanisms, such as the World Bank's Climate Investment Funds and the Pacific stands to benefit from these learnings.
"Sometimes it's good to be at the back of the queue because you can learn from some of the challenges that other funds have," he said. "That is what we are doing purposely – to find what the other funds are not doing, that we should rectify so we don't make the same mistakes.... PACNEWS
(Nic Maclellan is co-author, with Sarah Meads, of the new Oxfam research report "After Paris: Climate Finance in the Pacific Islands").