President Christian Addresses 71st Session of United Nations General Assembly
Details

Category: News
Published: Tuesday, 04 October 2016 14:47
Written by FSM Information Services
Hits: 2005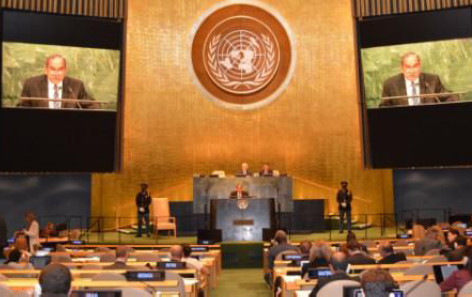 President Christian Addresses 71st Session of United Nations General Assembly
FSM Information Services
September 21, 2016 (New York, New York) - Federated States of Micronesia (FSM) President Peter Christian delivered FSM's national address before the 71st session of the United Nations General Assembly (UNGA). He focused on themes of global peace and security, reform and modernization of the UN, climate change, and oceans.
President Christian began his remarks by congratulating Peter Thomson, Permanent Representative of Fiji to the UN, on his election to the Presidency of the UNGA for the 71st session, calling it a historic occasion for Pacific islands. He next thanked the UN Secretary- General Ban Ki-moon, who is finishing his term this year, for being a champion of many issues important to Small Island Developing States (SIDS), such as increasing political momentum to address climate change.

President Christian condemned the spread of terrorism worldwide. He said it pained him to see millions of innocent civilians desperately seeking shelter from the turmoil of war. He called on the UN Security Council for a stronger response to this global crisis. He also challenged the United States and Russia, as well as the Syrian government, to do more to stop the violence in Syria. The President also condemned North Korea's ongoing provocative actions and rhetoric, which could threaten the peace and long term stability of the Asia Pacific region.
The President called for reform of the UN, citing the need for modernization of principles and practices as well as technologies. The UN must focus on preventive diplomacy around the entire world and not only address hot spots; it should act more as a peacekeeper than a peacemaker.
With respect to the UN Security Council, the President emphasized that the Council must adapt to modern times and be reflective of contemporary geopolitical realities. He reiterated the FSM's support for the G4 countries (Brazil, Germany, India and Japan) to become permanent members of the Council. He also expressed support for appointment of a Special Representative in the UN system to be dedicated to climate change and security.
President Christian observed that a number of milestone agreements were adopted this year: on disaster risk reduction, financing for development, the 2030 Development Agenda, and the Paris Agreement on climate change. He said that integrating the sustainable development goals (SDGs) into national plans will be challenging for SIDS and that they must be fully included in the relevant UN processes.
On oceans, the President explained that the FSM is custodian of the some of the world's richest marine resources. Under the Micronesia Challenge, the FSM has pledged to conserve 30% of its near shore marine areas. These conservation efforts also enable FSM's sustainable use of its oceanic fisheries.
On climate change, President Christian acknowledged that progress has been made in the last 25 years, but not enough. The President called attention to the ratification of the Paris Agreement by more than 30 countries, including virtually all Pacific islands. This raises hope that the agreement will enter into force soon, although implementation will require higher levels of both climate mitigation and climate finance ambition. Regarding the proposed amendment to the Montreal Protocol to phase down HFCs, President Christian reiterated his thanks to co-sponsors and other supporters who have helped bring the process of negotiating an HFC amendment to its final stages.
The President welcomed the progress in diplomatic relations between the United States and Cuba and urged an acceleration in the process towards lifting the embargo on Cuba. He noted that the FSM and Cuba have also established diplomatic relations. President Christian also applauded the peace accord in Colombia and offered his sincere hopes for its success, punctuating this sentiment by saying "Viva Colombia!"
As Chair of the Pacific Islands Forum, President Christian concluded his speech with a brief report of the 47th meeting of the Forum. He related outcomes of the meeting with respect to the themes of oceans, health, human rights, fisheries (including illegal fishing), partnership and climate change, all of which are contained in the Pacific Islands Forum Communiqué. He also reported that Forum leaders endorsed the Pohnpei Oceans Statement: A Course to Sustainability.
President Christian's full statement and video of his speech is available at: https://gadebate.un.org/en/71/micronesia-federated-states