Federated States of Micronesia strengthens post-disaster needs
Details

Category: News
Published: Tuesday, 04 October 2016 14:55
Written by Super User
Hits: 1786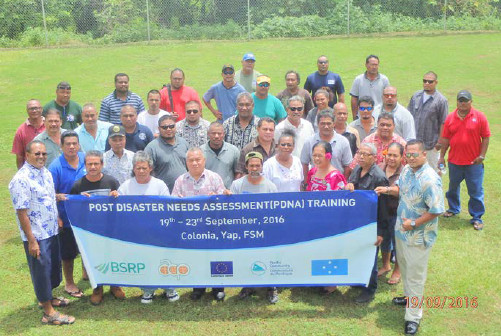 16 September, 2016
Yap, Federated States of Micronesia - The cost of disaster is critical in determining the support and impact on countries and the Federated States of Micronesia (FSM) has been struggling to determine the full cost of Typhoons Maysak and Dolphin in 2015 and the recent crippling drought.
To support this process, a Post Disasters Needs Assessment training is being conducted for disaster experts from the four states of FSM - Chuuk, Kosrae, Pohnpei and Yap.
The training which begins today in Colonia, Yap, is supported by the Pacific Community (SPC) and the European Union (EU) through the ACP-EU Building Safety and Resilience in the Pacific project.
Widely accepted as the international standard, Post Disaster Needs Assessments are comprehensive assessments that reveal the true cost of disasters by identifying all the impacts and calculating the cost of the damage and associated losses.
The week-long training aims to strengthen the country's ability to improve reporting on the impact of future disasters whilst helping to develop critical data to inform the identification of long term recovery, reconstruction needs and ways to mitigate future hazards.
In supporting the training, FSM's Director of Office Environment and Emergency Management (OEEM), Andrew Yatilman, stated that FSM should be in a better position to fully present the impacts of disasters throughout the islands which has been a challenge in the past.
"It's also going to give participants who are representing the states the foundations to conduct of Post Disaster Needs Assessments and the types of baseline data that needs to be developed in each critical sectors," Mr Yatilman said.
The training will be led by Dr Asha Kambon, a specialist in the Post Disaster Needs Assessment methodology, with support from SPC's Disaster Risk Management Officer, Noa Tokavou.
The event concludes on 23 September.