FSM's Yolanda Joab brings a powerful message to the world with a powerful voice
Details

Category: News
Published: Saturday, 29 October 2016 08:54
Written by Bill Jaynes
Hits: 2485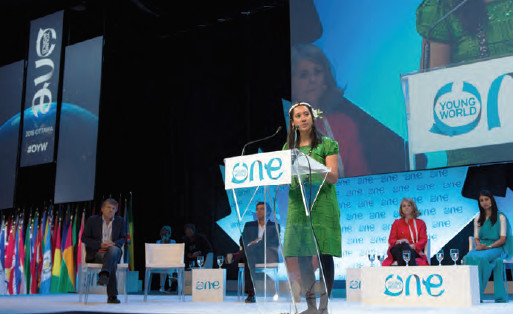 By Bill Jaynes
The Kaselehlie Press
October 1, 2016
Ottawa, Canada—1300 "One Young World" Ambassadors gave the FSM's own Yolanda Joab a standing ovation after her speech in Ottawa, Canada. It was the only standing ovation given for a delegate speech during any of the plenary sessions during the One Young World summit.
This year the subjects chosen for the plenary sessions were Education, Environment, Global Business, Health, Human Rights, and Peace and Security. Joab, 26, was one of five speakers chosen from among hundreds of applicants in an extremely competitive process.
One Young World was founded in 2009 by David Jones and Kate Robertson. They are a UK-based charity that gathers together the brightest young leaders from around the world, empowering them to make lasting connections to create positive change.
They stage an annual Summit where the most valuable young talent from global and national companies, NGOs, universities and other forward-thinking organizations are joined by world leaders, acting as the One Young World Counselors.
At the Summit, delegates debate, formulate and share innovative solutions for the pressing issues the world faces.

Joab said that each chosen speaker was paired with a counselor. The counselor and the delegate spend some time before the plenary sessions getting to know each other. After several people had asked to have their photograph taken with the man assigned to be her counselor she asked, "What are you, some sort of rockstar?" He just laughed and didn't answer. When she finished her speech he enthusiastically congratulated her, gave her a hug and said, "You're the rock star!" It was Bruce Dickinson the lead vocalist for the internationally famous heavy metal band, Iron Maiden. Dickinson divides his time between his job as a commercial pilot of jumbo jets and touring with the powerful Iron Maiden.
The video shows an obviously very nervous Yolanda Joab introducing her topic and telling the audience that that we "need the most carbon polluting nations to take action." But that doesn't mean that Pacific Islanders are "merely waiting to be saved" nor "standing idly by...We are adapting! We are fighting," she said.
"Well, I am the walking and talking reminder that came here all the way from the Pacific Islands of the Federated States of Micronesia so that we DON'T forget," she said and was interrupted by applause. She gave a slight smile and the speech took off pausing only when the audience erupted in applause several times.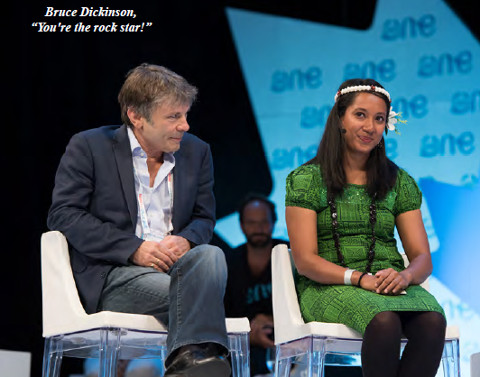 She quickly dispensed with the necessary and impressive but potentially boring statistics from CADRE "Climate Change Adaptation, Disaster Risk Reduction & Education Program" For five years she has worked in the FSM, RMI and Palau to educate more than 10,000 school students in 62 schools in 57 communities. The program has been helping island communities to take matters into their own hands and develop schemes for tackling climate change according to their own needs.
It has resulted in sea walls being erected on the islands of Kosrae and Pohnpei, she told the audience. Rainwater stations have been set up in schools across the region. Other schools, which previously lacked reliable energy sources, have installed solar panels. In Chuuk, under-served schools have been rejuvenated through the introduction of sanitation and clean water programs.
"But this isn't about numbers," she said, "it's about people...But for me personally it's about raising of a generation of young Micronesians knowledgeable of this reality because if we don't stand up for ourselves then who will?"
"It's not just about the big and expensive solutions, it's usually the smallest steps that make the biggest difference," she said and the audience interrupted with applause again.
But Joab told the audience of 1300 young leaders from more than 190 countries that "climate change is not just our problem," and that islanders deserved support.
"We are co-owners, co-creators and co-authors in this story and it can have a very different ending from what I fear," she said. "But only if, in addition to what we are doing back home, our global community pours the same amount of energy, time and effort into investing in renewable energy technology the same way we did as inventing the same iPhone, over and over again," and the audience interrupted again with thunderous applause.
She called on the media to give the same attention to "the untold stories of indigenous people struggling to preserve their oceans" as they give to reality television shows like "Keeping up with the Kardashians."
Joab concluded that mankind's history showed that it possesses the means to tackle the climate change problem and called the young leaders to action. "Show me that we can work together, show me that greatness that I know is in all of us and let's change this course together."
Joab is currently in Taiwan as a fellow at the East West Center's Pacific Island Leadership program. She said that before she could agree to be a fellow she had to get permission to take part both in the One Young World summit and also to do a dramatic presentation on climate change and the environment at the IUCN (International Union for Conservation of Nature) World Conservation Congress in Hawaii she'd been invited to give again in front of a world audience.
We told her that we were disappointed that the video of her speech hadn't gone viral though it had been seen by many people all over the world. "The goal was never about going viral but to move the people in my audience to think about this and move it up their priority list but to also collect Micronesians and other Pacific Islanders behind this and serve as a voice and ambassador that is worthy of the story we have," she wrote. "On those standards...and all of the connections I made after that from people from all over the globe, plus seeing how much my fellow countrymen and women appreciated it and were hungry for a positive light to be shown on us for once, I'm happy. The only way from here is up!"
Sometime after her speech, Joab wrote another impassioned plea on her Facebook page.
"I came to the One Young World Summit, myself and country a stranger. I left known as the girl in the green dress in front of a standing ovation. My country not so unfamiliar anymore; the fabric of that dress, from home, sewn together by the hands of my aunty."
"So many have asked me why and how I spoke the way I did. My question is, how could I not? No one really questions other countries for building up militaries, clandestine services or border patrol all in the name of national security. For us, climate change is a matter of national security. Though it may not look like a state of emergency to most right now, as a mother, it sure does feel like it. The worst case scenario may be waiting down the line decades from now, but the time to turn it around is now.
"Most of our islands are just like strips of fabric from that dress. Green and beautiful, laying thinly on top of the Pacific Ocean. Unknown to the world, until the girl born from it and wearing it on her skin spoke out.
"To the many of you from all corners of the world that came up to me, thanked me, and embraced me, do something for me so that I can thank you in return soon. Do what you can to ensure your leaders are upholding the COP21 Paris Agreement. For those of you who were against what I did on that stage, I thank you now, for being the fuel to my fire. I invite you to muster up more of the courage that is required of you to sit behind the shadows of your computer screens and throw anonymous and faceless negativity, but also dare to step into the light in front of a crowd of 1,300 and make your case. I will listen. If you still doubt, I invite you to come to our islands and see for yourself. If you do, I assure you, you will be treated with that warm island hospitality that separates us Davids from the rest of the Goliath world. Kalahngan Lap & Kinisou Chapwur."