Sustainable food production and nutrition project in Micronesia
Details

Category: News
Published: Friday, 11 November 2016 14:07
Written by Jaime Macayana
Hits: 4648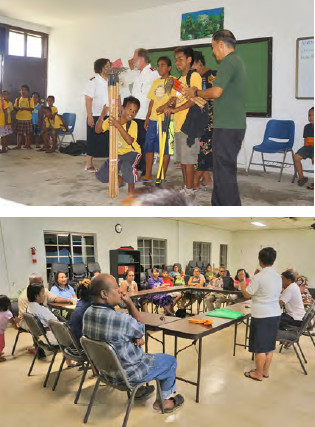 Who will ever think that in this beautiful island of Weno, Chuuk State, FSM, which I describe as a Paradise Island, many children are hungry and sickly? Due to severe malnourishment, some die unfortunately, albeit unnecessarily.
The Salvation Army has been actively operating in the states of Chuuk and Pohnpei, Federated States of Micronesia (FSM) for 20 years. Through the years, the Army has focused mainly on the spiritual development and social services through distribution of material assistance and food parcels mostly to our constituents, their families and the bigger community during emergencies.
In our first of the three years that we have served in Weno island, Chuuk, we have observed that most of the children who attend our children's meeting appear thin, pale, weak and slow in learning. Nine to ten years old children struggle to write their names let alone read and write simple words even in their own language.
Our study shows that these vital signs are caused by severe mal-nourishment. Majority of the children are lacking proper nutrition. The reason is that most families are not producing the right and balanced diet needed for children to be healthy and smart. We also observed that in some of our Sunday meal fellowship where members are encouraged to bring their local food, most of the food they bring include canned fish, processed meats and local food which are heavy carbohydrates like taro, yam, cooked banana, and breadfruit. One fisherman we have is selling his catch in order to buy sardines for their meal.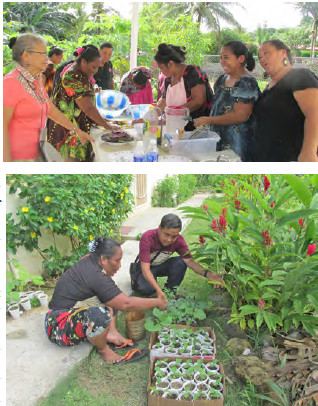 HEALTH AND NUTRITION – In the wider scale, according to World Health Organization (WHO) nutrient deficiencies are common in the Pacific Islands. In 15 of 16 countries surveyed, more than one fifth of children and pregnant women were anemic. About 40% of the Pacific island region's population of 9.7 million people has been diagnosed with a non-communicable disease, notably cardiovascular disease, diabetes and hypertension. These diseases account for three quarters of all deaths across the Pacific archipelago, which includes Micronesia. With increasing population growth and a decline in subsistence farming, the demand for food in the Pacific Islands is increasingly being met by imports. Imported staples such as rice and wheat flour are replacing locally grown carbohydrates, along with the growing prevalence of canned/processed foods and other poor quality protein such as mutton flaps, turkey tails and spam. These changes in diet are contributing to the substantial levels of obesity, mal-nutrition, the cardiovascular diseases and diabetes.
POVERTY AND HUNGER – Poverty is the principal cause of hunger. The causes of poverty include poor people's lack of resources, an extremely unequal income distribution in the world and within specific countries. In 2008 the World Bank estimated that 20 percent of the households in FSM live on $1.25 a day or less. Extreme poverty remains an alarming problem in the Pacific region, which includes FSM. Unemployment is rampant. More than 50% of the available work force of Chuuk is unemployed.
Poverty, hunger, sickness and illiteracy are related. Hunger is not only an effect but also a cause of poverty. Hunger affects peoples' health. Unfortunately it's the children who are the most visible victims of poverty, hunger and under-nutrition. Illiteracy among the adult and the children being slow learners is also an undesirable outcome of poverty, hunger and poor health. Chuuk has been included in the list of top 10 countries with lowest literacy rate. Poverty, malnutrition and illiteracy needs to be reduced. Furthermore, due to the gravity and seriousness of the situation, the UN has declared that Pacific Island countries including the FSM where Chuuk is one of the states, be placed on a "state of health emergency" due to an alarming increase of none communicable diseases (NCD).
Having assessed the people's situation and in response to their felt need, The Salvation Army, Chuuk, in 2014 offered the following program:
a. Sustainable Food Production. Economic growth, especially broad-based growth in agriculture and the rural economy, is a necessary condition for reducing poverty and hunger. More than 75% of Chuuk's population lives in rural and remote areas. Concrete steps have been taken to promote agriculture and rural development. Local food production resulted in improved economic stability and healthy living. Malnutrition among children were greatly reduced and consequently they are able to enjoy and benefit from their education.
b. Integrated Literacy and Nutrition. Whilst involved in programs related to poverty and malnutrition elimination through sustainable food production scheme, an important aspect of the people's total development is literacy. Two hours each day for four days in a week in our first year of implementing literacy program is devoted for an after class remedial tutorial classes especially for slow-learner children. At least once a month, while the children are in class, their parents are learning proper nutrition, food preparation and cooking. The cooked food is served to the children. Food production (backyard gardening) on a weekly basis is demonstrated and taught to parents of these children in their own backyard.
Through this integrated approach, our children have gained weight and their parents who are overweight lost some weight.
Recently, Major Lilia Macayana, FSM Coordinator for Resource Development reports: "Our Literacy and After School class continue to attract boys and girls who want to learn how to read and write in English. Many newcomers and most of them received Jesus in their hearts as their personal Savior. We don't only teach them reading and writing, but we also teach them good manners and right conduct and faith in God." Most of the children who attended our after school remedial classes are now attending our Corps Sunday School. Many of their parents too are coming to the Army on Sundays with their children.
To extend the impact and benefit of this program, in November 2015, we have arranged with the Principal of Iras Demonstration Elementary School to integrate in their school curriculum for year 7 and 8 students, subject on Nutrition and Food Production. For this current school year 2016 - 2017, we are renewing our agreement with the school administration. We believe that by influencing the children, we hope to be able to use them as agents for transformation in their homes and community. It is also hoped that this program will be implemented every school year.
On October 21, 2016, The Salvation Army launched the Food Production and Nutrition project at the Kolonia Corps, Pohnpei. Prior to this launching, we were able to pay a courtesy visit to the departments of Agriculture and Cooperative Research Extension, College of Micronesia, Pohnpei. Both offices assured The Salvation Army of their moral, technical and other practical support for the benefit of the people of Pohnpei.
The Salvation Army Chuuk is grateful to program partners who are supporting this project like the following: Doctor Lolita Ragus, Researcher/Extension Specialist, College of Micronesia, Chuuk, Mr Rogelio Ragus, volunteer agriculturist for The Salvation Army, Chuuk, School Parents Teachers Association of the Iras Demo Elementary School in Chuuk and members of the Salvation Army Advisory Board Chuuk led by Ms Linda Mori Hartman, the board chairperson.
Major Jaime Macayana
FSM Coordinator for Resource Development