Standing with Ulithi- Tornado rips through island
Details

Category: News
Published: Monday, 23 January 2017 09:09
Written by Katlyn Murray
Hits: 2175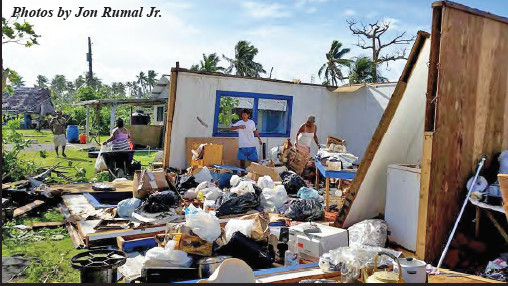 By Katlyn Murray
The community of Ulithi stands vigilantly against the threat of natural disaster. The atoll in Yap State faced significant damage in the wake of Super Typhoon Maysak, with nearly all the homes, agriculture, and public infrastructure destroyed or significantly damaged. Since April 2015, the community has been rebuilding with the materials that they had on hand along with help from international aid organizations.
On December 22, 2016, a water spout turned tornado ripped through the island, tearing apart over 20 newly repaired homes and cook houses along its path. "It sounded like a jet was flying low over the island. Luckily, we had been warned that Typhoon Nock-ten could be headed in our direction so we were prepared for a potential disaster. If we hadn't received warning about Nock-ten, this tornado would have claimed lives on Falalop," said local resident Jon Rumal Jr.
A non-profit organization based in Guam, Micronesian Conservation Coalition, has stepped in to raise funds for the community. The organization primarily works on marine conservation and research in Yap, Pohnpei, and Guam, but is also concerned with supporting Micronesian communities and local culture.

"I love this community. They don't have much monetarily but are rich with love, family, and community. The community housed a bunch people at the eco lodge when we had to be evacuated from a live-aboard boat because of a tropical storm. We had to spend three days on the island. I was shocked at the power of constant winds for three days on a low lying island. It is devastating to see the impact that reoccurring natural disasters are having on this beautiful island. Micronesian Conservation Coalition wants to help the community in any way we can," extolled MCC's founder and Executive Director Julie Hartup.

The organization has launched a fundraiser with a goal of raising $20,000 to purchase construction materials and agricultural supplies to repair the island. As this is not a marine conservation effort, MCC will not take any administrative percentage from the fundraising. 100% of proceeds from this fundraiser will go directly towards purchasing building materials, like roof sheeting, nails, hurricane strapping, and concrete to repair foundations, as well as agricultural products and tools requested by the community, and shipping to get them from the mainland to families in need.
Donations can be made by visiting Crowdrise