Deployed brother, sister reunite after 10 years apart
Details

Category: News
Published: Wednesday, 08 February 2017 08:50
Written by Master Sgt. Benjamin Wilson
Hits: 1664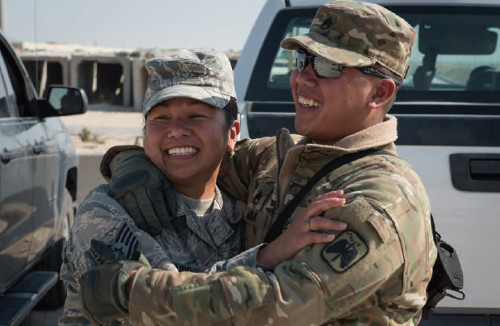 By Master Sgt. Benjamin Wilson,
407th Air Expeditionary Group Public Affairs
U.S. AIR FORCES CENTRAL COMMAND
January 16, 2017
SOUTHWEST ASIA -- U.S. service members ordinarily have to say goodbye to family as they head out for deployments, but one deployment brought a brother and sister together after 10 years of separation.
U.S. Air Force Tech. Sgt. Mary Jane Palumbo and her brother, U.S. Army Staff Sgt. Quincy Mora, were able to meet outside a military air terminal in Southwest Asia for a couple of hours as he forward deployed closer to the fight.
Both brother and sister are currently deployed in support of Operation Inherent Resolve to militarily defeat Daesh, also referred to as Islamic State of Iraq and the Levant.
Palumbo, 134th Expeditionary Fighter Squadron aviation resource manager, last saw her brother when he was on his way home from his first tour in Iraq.
She was vacationing in Hawaii when he stopped for a layover en route to their hometown of Pohnpei, Federated States of Micronesia.

Palumbo and Mora, an AH-64 Apache mechanic deployed from Ft. Lewis, Washington, were born and raised in the Federated States of Micronesia along with their 9 other brothers and sisters.
The family was big, but they were close, according to Palumbo. They all lived in one house with her grandmother growing up, and although there were separate rooms for the adults, the children would spread out in the living room with sheets and blankets at night.
"For most Americans when you're 18, you're an adult, you move out," she said. "For us it doesn't matter. We can still live together even if you are married with kids; we still are really close."
Growing up in such a close family added to the difficulty of leaving for basic training, but Palumbo said she wanted to test herself and see if should could succeed in the military.
That is why she joined the Army directly after high school.
Although it was hard to leave her family, she said it was an exciting new experience. It wasn't until she decided to start a family of her own that she knew she had to make a change.
"I had my oldest son and I didn't really want to move around that much with the baby so that is why I got out [of the active duty military]," Palumbo said. "Then I moved to Vermont and that's when I joined the Vermont Air National Guard."
The Air National Guard gave Palumbo the stability she felt she needed to raise a family and the kind of support structure she had growing up in Pohnpei.
"The guard, they take care of you and your family," she said.
Even though she decided to plant new roots in Vermont, Palumbo said keeping in touch with her extended family is important to her.
That is why she called up her brother last summer to make plans to meet for Christmas. Unfortunately, he was tasked to deploy.
It was not until November 2015, when Palumbo herself was tasked for deployment that she realized this set of unlikely circumstances was destined to reunite brother and sister after ten years apart.