FSM Assistant Attorney General Commissioned into the U.S. Navy Judge Advocate General Corps (JAG)
Details

Category: News
Published: Wednesday, 08 February 2017 08:59
Written by Kpress
Hits: 2059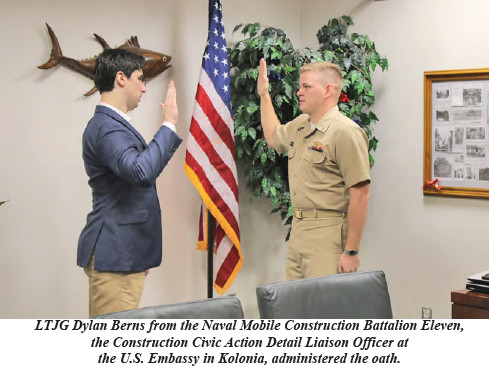 On January 24, 2017, Mr. Clayton Lawrence took the oath of office and was commissioned into the United States Navy Judge Advocate General's Corps (JAG) as Lieutenant Junior Grade (LTJG) Clayton Lawrence. LTJG Dylan Berns from the Naval Mobile Construction Battalion Eleven, the Construction Civic Action Detail Liaison Officer at the U.S. Embassy in Kolonia, administered the oath.
Ambassador Robert Riley congratulated LTJG Lawrence in his opening remarks, saying, "We are honored to host this special occasion and we are sorry that we will be losing you at the Department of Justice - you've been a great help to all of us. On the other hand, you will be moving on to greater things and we certainly wish you the best on this new journey and I hope that everything goes on as you wish.". LTJG Lawrence expressed his gratitude to the many wonderful families and friends that have supported him in achieving his goal of becoming a Navy JAG.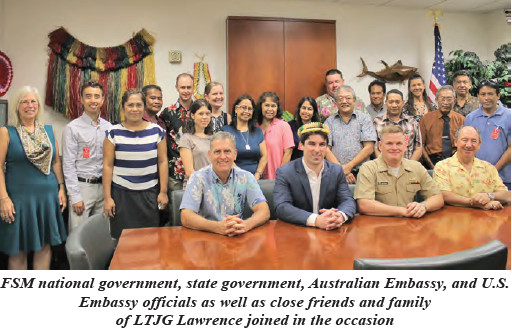 LTJG Lawrence moved to Micronesia in March 2014 and served as an Assistant Attorney General for the State of Pohnpei under Attorney General Judah C. Johnny. After serving the state of Pohnpei, he joined the FSM Department of Justice in May 2015 as an Assistant Attorney General. Shortly thereafter, he was designated Chief of the Litigation Division by Attorney General Joses R. Gallen, becoming responsible for, among other things, instituting criminal investigations and proceedings, and representing and defending all civil actions and proceedings involving the FSM.
In 2015, he initiated a scholarship at Xavier High School in Chuuk State that pays four years of a student's tuition. It is awarded to a student who demonstrates academic excellence and financial need.
FSM national government, state government, Australian Embassy, and U.S. Embassy officials as well as close friends and family of LTJG Lawrence joined in the occasion. The American Ambassador and Embassy staff congratulates Clayton Lawrence and wish him fair seas and following winds.