Handover ceremony of the project for procuring a cesspit cleaner truck in Kosrae State
Details

Category: News
Published: Wednesday, 08 February 2017 09:14
Written by Kpress
Hits: 1493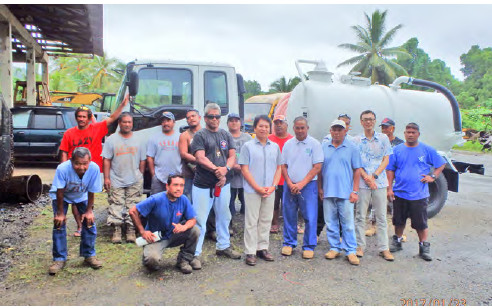 On January 23, 2017, a handover ceremony was held at the repair shop of Department of Transportation and Infrastructure, Kosrae State Government, for the Project for Procuring a Cesspit Cleaner Truck in Kosrae State, which provided US$96,940 for Department of Transportation and Infrastructure under the grant aid scheme called Grant Assistance for Grass-roots Human Security Projects. The aim for this project is to improve the environment and the sanitation in the community by conducting almost all of the cesspits cleaning in Kosrae state.
At the handover ceremony, the Government of Japan handed over a cesspit cleaner truck to Department of Transportation and Infrastructure (DT&I). Following the handover ceremony, under the auspices of Japanese engineers dispatched from manufactory of vehicle provided, hands-on training on use and maintenance of cesspit cleaner truck was held.
In his speech during the ceremony, Mr. Koji Sugiyama, Deputy Chief of Mission at the Embassy of Japan, presented his remarks hoping that the car will be used for a long term period by being maintained well. Representing DT&I, Acting Director Thansley Kinere acknowledged the Embassy of Japan for the generous grant. He also stated that the vehicle will help protecting the environment in communities in Kosrae state.
Present at the ceremony were Mr.Osamu Nedlic, Administrative Officer at DT&I, and staffs of DT&I and the Embassy of Japan.