Pohnpei files criminal charges against former Governor John Ehsa
Details

Category: News
Published: Saturday, 18 February 2017 16:07
Written by Bill Jaynes
Hits: 4480
Extradition proceedings likely to begin soon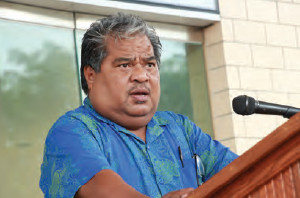 By Bill Jaynes
The Kaselehlie Press
February 1, 2017
Pohnpei—Today Pohnpei State filed an eight count criminal information against former Governor John Ehsa centered on allegations that on October 8, 2014 he approved a travel authorization for himself in the amount of $13,000 to travel from Pohnpei to Pohnpei. The stated use was for representation funds.
The report that was forwarded to the Attorney General's office by the Compliance Investigation Unit (CIU) of the Pohnpei Office of the Public Auditor found that "the travel authorization was not valid, and therefore, the advance of representation fund money was inappropriate." The report also indicated that John Ehsa has not filed a travel voucher or other accounting for use of the funds.

The Pohnpei State Department of Treasury and Administration confirmed in writing to the Office of the Attorney General that the amount of $13,000 remains outstanding and had not been receipted and liquidated on its accounting records.
The counts filed by the State against the former Governor are: Cheating; Embezzlement; Grand Larceny; theft by failure to make required disposition of funds received; forgery; concealment, removal or alteration of records or proceeds; misconduct in public office; and, compounding a crime.
The CIU report said that Ehsa also advanced $8,000 for a trip to Korea of which only $4,065 was receipted. It claimed that the remaining balance is still outstanding. The statute of limitations for those allegedly outstanding funds has expired so were not included in the criminal information filed by the Office of the Pohnpei State Attorney General early this week.
Ehsa is not on island. In March of 2015, the FSM government charged him with Criminal Depravation of Civil rights, Obstruction of Justice, and Criminal Contempt. His passport was confiscated but returned to him by the FSM Supreme Court so that he could go to the Philippines for a medical referral. But he did not go to the Philippines. Officials believe that he is in the US mainland. Both FSM and Pohnpei State officials said that they will soon begin the process of extradition from the United States so that he can stand trial.