Small paving project in Kolonia Town a precursor to repaved roads Mayor says
Details

Category: News
Published: Saturday, 18 February 2017 16:15
Written by Bill Jaynes
Hits: 1460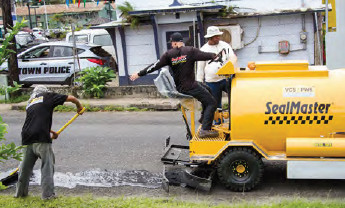 By Bill Jaynes
The Kaselehlie Press
February 8, 2017
Kolonia, Pohnpei--It might seem strange for Kolonia Town to have paved what amounts to about a three block stretch of road in front of and alongside Joy Hotel and Restaurant but Kolonia Town Mayor Jose San Nicolas says that it is a pilot project. The project also served as a training ground to teach employees how to use the new equipment purchased by San Nicolas' construction company, VCS Construction and an innovative asphalt paving product called "Liquid Road Ultra Blend" made by "SealMaster".
John Moody, Vice President of the independently owned franchise Seal Master, Hawaii said that his company has been working with Pohnpei for a year and a half. "I told them that if they buy the product I would be here to provide training and support, and that it works," he said.
"Liquid Road Ultra Blend" was applied during the pilot. It is an asphalt water based sealcoat, hot blended latex, fiber reinforced and with four pounds of sand per gallon. No heat is involved in the application and it needs no heavy rolling machines to make it smooth. As water evaporates from the road surface, it smooths out. Two applications are required.
It goes down very fast. The first coat on a block long section of road took one and a half hours.
Moody showed us a cell phone photo of a patch made over a year ago in Kolonia using a SealMaster cold applied product that appears to be holding up very well.
"We have been in business for over 120 years in Hawaii. We have been doing SealMaster since 2003, and we just received the Franchise of the Year award for 2016," Moody wrote in an email.
Mayor San Nicolas said that during the next year, Kolonia hopes to repave all of the roads in Kolonia Town and also to put in a sidewalk from the Botanical Gardens through to the "Tuna Commission" building.
Kolonia Town doesn't have the money to do the two projects. FSM Senator Ferny Perman who represents Election District #1 in Pohnpei which includes Kolonia Town says that the money to pay for the project will come from a special projects allocation from FSM National Government. He estimates that the cost will be more than $300,000 for both projects.
Perman said that although the pilot project was conducted using SealMaster products, he has also been looking for a potential alternative resource for comparison.
VCS does not have the project locked down, though they now have the equipment. The projects will be open for competitive bidding.