Japanese Ambassador hosts reception for New Year celebration
Details

Category: News
Published: Saturday, 18 February 2017 16:18
Written by Bill Jaynes
Hits: 1371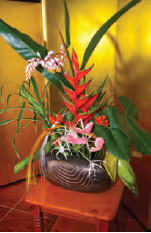 By Bill Jaynes
The Kaselehlie Press
February 8, 2017
Pohnpei—Ambassador Ryoichi Horie and his wife Yuko hosted a reception for Japanese residents of Pohnpei and for friends of Japan at their residence in Nanpohnmal on the evening of February 8. The reception was a late celebration of the New Year. Ambassador Horie greeted his fellow countrymen in the Japanese language and continued in English.
He reminded the attendees that next year will be the 30th anniversary of Japan FSM diplomatic ties. "Towards 2018, I hope that our two countries will continue to work together to further strengthen our bonds of friendship," he said. "For such purposes, this year is very important."
He announced that in two weeks' time a Japanese team with two famous scholars will visit Pohnpei to start a Nan Madol related project. He said they would have exchanges with political and traditional leaders here. "I hope that our cooperation for the conservation of Nan Madol and tourism promotion to the FSM will be further enhanced and strengthened this year," he said.
The reception was beautifully decorated with stunning flower arrangements assembled by Mrs. Horie from flowers collected from the home garden of Joe and Ichiko Vitt.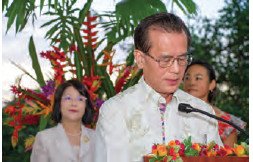 Former President Manny Mori also spoke to the crowd of the deep bonds of kizuna between Japan and the FSM. He thanked the Japanese people for their many contributions to the development of the FSM and said that he anticipates that relationship and cooperation will extend long into the future.
Afterwards a magnificent dinner was served.