USAID and IOM complete construction of nearly 100 houses in Yap's Ulithi Atoll
Details

Category: News
Published: Saturday, 18 February 2017 16:21
Written by Kpress
Hits: 3229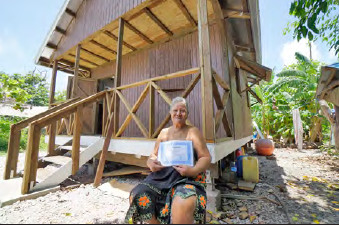 10 FEB 2017
In cooperation with the International Organization for Migration (IOM) and the government of the Federates States of Micronesia, USAID recently celebrated a major milestone as part of its Typhoon Maysak Reconstruction Project. In response to 2015's Typhoon Maysak, USAID responded with a $50 million project to rebuild houses and public infrastructure damaged or destroyed by the typhoon in Chuuk and Yap states.
USAID collaborates with a wide range of stakeholders across the globe to implement U.S. assistance needs. For decades, USAID has utilized well-established implementing partners to monitor development results, improve aid effectiveness and coordination, and enhance transparency and social accountability. USAID has partnered with IOM on a variety of projects across the globe, including fighting Ebola in West Africa, providing agricultural support in Papua New Guinea, installing solar power in Haiti, and setting up food distribution centers and shelters in the aftermath of a devastating earthquake in Nepal in 2015 which killed thousands. The Typhoon Maysak Reconstruction Project represents a result of the established USAID and IOM partnership.

According to IOM's Chief of Mission, Stuart Simpson, "part of IOM's global mission is to train up locals – we call this capacity building. In this project, that means giving the islanders the tools, training, and jobs to perform the construction themselves. IOM has engineers on the ground to train the community worker groups and ensure that the work is done safely and properly. We have 235 locals in Yap and 960 in Chuuk working on construction projects. We're still recruiting, so those numbers will continue to increase."
In Yap, a total of 94 houses have been constructed in the Ulithi Atoll (made up of Falalop, Mogmog, Fadrai, and Asor islands) and Fais island. The houses were designed by an engineering firm in Hawaii which is familiar with the climactic hazards that exist in the Pacific; the wood used to construct the houses is termite-resistant and the foundation is set in a dozen concrete posts. Additionally, the houses each come with a 1,000-gallon water tank that incorporates tie-downs in the design to decrease the hazard of flying debris and materials when strong winds hit the islands. The project also provided reverse osmosis machines to support construction efforts, turning the seawater into freshwater, ensuring that the steel and rebar supports won't rust or corrode.
USAID's Senior Program Engineer, Karen Wonders, elaborates: "This part of the world experiences frequent storms, including super typhoons and tornados. The new houses were designed to withstand high winds and storm surges from coastal areas. It's important to us that residents of the FSM feel safer during inclement weather, which is also why locals, both in Chuuk and Yap states, are being trained in modern construction techniques. They are the ones who built these houses and they should be proud of how well the homes withstood one of their first real tests."
Wonders is referring to a tornado which recently hit the island of Falalop, where 42 of the Typhoon Maysak houses have been built. On December 22nd, 2016, Falalop was struck by a tropical storm. A waterspout caused by the storm moved onshore and developed into a tornado. Storm updates from Guam provided Ulithians time to move to shelters until the all-clear was declared the next day, which minimized potential for injury. IOM was the only organization onsite prepared to perform an immediate evaluation of the tornado's impact on the Typhoon Maysak Reconstruction Program. According to the results, there was extensive crop damage, and destruction of approximately 15 cook houses and five residences. Power lines were damaged, but electricity was restored by the night of the 23rd.
Now that construction of homes has been completed in Ulithi, construction efforts are being concentrated on public infrastructure, with priority given to schools, at the request of the community. Falalop Elementary School received a new roof and several buildings at Outer Islands High School are being re-built from the foundation up. USAID and IOM are building and repairing over 65 public infrastructure projects throughout the Ulithi Atoll.