Pohnpei opens new VIP room at airport-hospitality is the focus
Details

Category: News
Published: Friday, 10 March 2017 10:35
Written by Bill Jaynes
Hits: 3002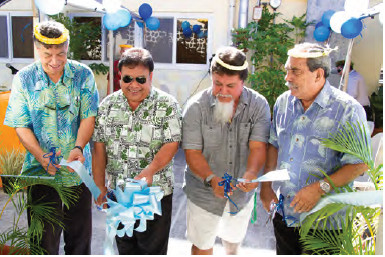 By Bill Jaynes
The Kaselehlie Press
February 13, 2017
Pohnpei—This morning, dignitaries, including FSM President Peter Christian formally cut the ribbon on a newly refurbished VIP room at the Pohnpei International Airport under the administration of the Pohnpei Port Authority.
Rohsa Kitti Willy Hawley spoke saying that the VIP room would be "second to none" anywhere. Lt. Governor Reed Oliver also spoke saying that it was not only important that Pohnpei put its best foot forward when representing itself to traveling dignitaries but that its heart should also be clean.
President Christian agreed with the words of the previous speakers. He said that when he was young he always wondered why his mother would make the children clean up the house when she knew that visitors would be coming. He said that he doesn't wonder anymore. He knows how important it is to treat visitors well.
Though the new VIP room won't be seen by most people in Pohnpei, it will serve Pohnpei's interests in terms of hospitality, an important commodity, the speakers intimated.
Chief of Staff Leo Falcam, Lt. Governor Oliver, Rohsa Kitti Willy Hawley, and President Christian cut the ribbon before the small number of gathered guests entered the new VIP room that was replete with marble type floor tiles, varnished brick work, magnificent furnishings, and a bar.
Sitting back in the comfortable chairs and couches, President Christian said that he wasn't completely satisfied yet because the furniture seemed so foreign.
The cost for the project was $96,208.12. The contractor who did the complete renovation was ARM Maintenance & Repair. The funding was provided by the FSM National Government through the President's office.