Water Sanitation Management in country Supplementary training in Pohnpei
Details

Category: News
Published: Monday, 20 March 2017 09:02
Written by JICA
Hits: 964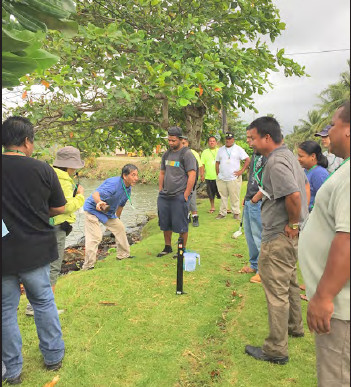 JICA March, 2017
A 3 year capacity enhancement training by Japan International Cooperation Agency (JICA) entitled "Water Sanitation Management" was implemented in Okinawa, Japan, since 2014 and the supplementary in country training was held in Pohnpei in January 2017 at Pohnpei Utilities Corporation (PUC) conference Room. The training was conducted by Okinawa Environment Club (OEC), to monitor and inspect the actual situations happening here in Pohnpei and how it has been treated. The trainees learned how to enable the monitoring of leachate/wastewater to be carried out constantly by confirming, on site, the meanings of monitoring implementation and monitoring plans.
Kwajalein Atoll Joint Utilities Resources (KAJUR) and Majuro Water and Sewer Company (MWSC) also attended the 4 days training along with the participants from Pohnpei Utilities Corporation (PUC), Pohnpei Environmental Agency (EPA), Pohnpei Waste Management Services (PWMS), Kosrae Island Resources Management Authority (KIRMA), Kosrae Department of Health, Kosrae Department of Transportation and Infrastructure, Chuuk Public Utility Corporation (CPUC) and Chuuk Environmental Agency (EPA).
One of the participants both in Okinawa and Pohnpei, Mr. Norlin Livaie from Kosrae Department of Health Services, commented that he had a great opportunity to have professional lecturers in the field of water management and it was somewhat indeed needed to our small islands to participate in this training.
Mr. Kuniki Shimoji, a lecturer from OEC and the participants visited the dumpsite in Dekehtik and the sewage plant in Kepinle, to collect leachate samples from Dekehtik and water from the sewerage plant. Afterwards, the collected samples were tested to examine the volume of (PH), Chemical Oxygen Demand (COD) and Transparency.
Ms. Ayako Yoshida JICA Project Formulation Advisor (PFA) represented Mr. Shinji Shibata JICA Resident Representative (RR) to congratulate and award the participants with certificates for those who attended training in Okinawa and to appreciate the partnership and collaboration each of the organizations have with JICA. Certificates for the training in Pohnpei were handed over by Mr. Shimoji. He advised the participants to continue and apply the knowledge they obtained in the training.
Mr. Robert Hadley Acting General Manager of PUC also congratulated all the participants who completed the 3-year training and encouraged them to continue the work they learned and appreciates JICA for conducting the training, and for all the aid they have been providing in the FSM.
The training was surely productive for participants and hope that it contributes to sustainable environment in the FSM.