Runners compete in Annual Rotary Club Fun Run
Details

Category: Sports
Published: Tuesday, 28 March 2017 17:08
Written by Rotary Club of Pohnpei
Hits: 3236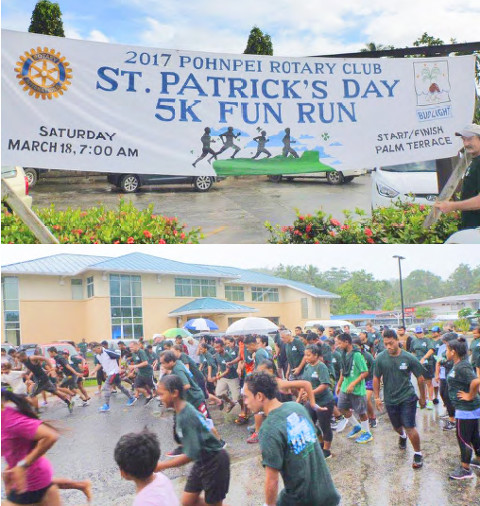 Rotary Club of Pohnpei
March 18, 2017
Pohnpei, FSM—The Rotary Club of Pohnpei held its annual Fun Run on March 18. It was slightly rainy but there was a good turnout of approximately 150 people. The Fun Run was a 5K run/walk, and the proceeds will be used for the Rotary Club's scholarship fund and other projects. These projects include support for the annual spelling bee in which 12 elementary schools participated, monetary support for the Pohnpei Swimming pool, and several ongoing projects including solar panel projects for local schools.
The top finishers were Casey Henry, Alex Alexander, Ryan Elias, J.R. Mendiola, Matt Weisker, Jordan Willoughby, Devon Aquinas, Aidan Smith, KR Rosario, and Reholiza Saimon.
They each received gift bags containing gifts from sponsors Bank of Guam, Petrocorp and Moylans' Insurance.
The FSM NOC donated trophies to the winners in the following categories:
12 and under
Male Ted Jack
Female Rayla Yamada
18 and under
Male Devon Aquinas
Female Derisalynn Jonah
Master (over 50)
Male Dana Lee Ling
Female Donna Thompson
Champions
Male Casey Henry
Female Reholiza Saimon
Congratulations to all the winners.
Additionally the Rotary Club and Mahi International along with a number of volunteer medical professionals set up a booth to provide medical screenings and checkups before and after the race. A lot of people got some healthy exercise and a health checkup. All participants received free t-shirts donated by Ambros, Inc. Palm Terrace generously allowed us to use their facility for the pre and post race activities. Island Food Community of Pohnpei provided healthy local snacks, and the warm-up was conducted by the local Zumba group. FSM NOC set up the course and handled all the water stops.
We wish to thank all of our sponsors, Palm Terrace, Ambros, Inc., Pohnpei Ace Hardware, FSM National Olympic Committee, Moylan's Insurance, Drops of Life, INS, Island Food Community, K Press, Petrocorp, Bank of Guam, and we wish to thank the following police departments for providing security on the 5K course, Pohnpei State Police, Kolonia Town Police and Nett Municipal Police.
A good time was had by all and the $5.00 entry fee went to assist some worthy causes.