FSM President Peter Christian talks about his State Visit to China
Details

Category: News
Published: Thursday, 20 April 2017 08:08
Written by Bill Jaynes
Hits: 4938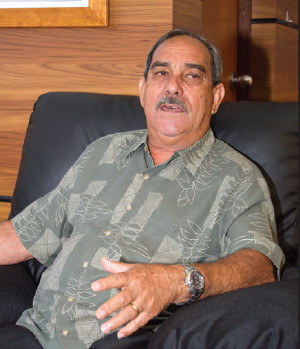 By Bill Jaynes
The Kaselehlie Press
April 5, 2017
Palikir, Pohnpei—Though the FSM has had diplomatic relations with China for 28 years and seven previous FSM Presidents have had State visits to the People's Republic of China, when President Peter Christian and his entourage visited in March, the response of many commentators was overwhelmingly skeptical.
On March 27, the FSM Embassy in Beijing issued a press release detailing all that was discussed and agreed upon in China. That press release with more of the details appears in this issue of The Kaselehlie Press on page three.
"During some of our visits (to FSM citizens in the US), they would always ask, 'Is it true that we're going with China?" But we're going with a lot of countries right now," President Christian said during a relaxed interview in his office today, "and the ADB, and the World Bank. These are donor partners."
China's President Xi Jinping rolled out the red carpet for President Christian including a military review outside the Great Hall of the People. President Christian is rarely intimidated by anything but he said the military review was intimidating to him. He said he'd only done that once before in The Solomon Islands with Prime Minister Sogavare who President Christian said had to keep correcting him.
"Yeah, China was impressive. If that's the way they welcome other countries. We were flattered. I was flattered that for a small country they would exhibit such formality," he said.

An article by Chinese news entity CGTN had several photos of the red carpet greeting by President Xi. We pointed out that in the photo of President Christian and President Xi doing the military review, President Christian indeed looked nervous. But in the next photo he looked like he was in his element as Chinese school children in traditional costume welcomed him. In that photo he is smiling broadly and clapping with the children. Could a tourism village work here?
"Yes, I like that. There was a tourist village that they do and I'm trying to see if we can do that here. Some of these villages, the houses are close together and they're mostly all families. But what they did in Hainan is they've converted this village and said, 'okay, you be a tourist village', and they support them. So visitors go and they have tea, and they have things to see, and that was part of the trip.
"It's something that could be good here. The children when they come home from school could contribute. Most elderly parents don't speak English but the kids do speak a little bit. So I thought that might be something we might gain some experience from," he said.
China State visit an FSM tradition
"You know this trip has been put off for two years," and added that they may have not have been particularly happy with him since right after his inauguration he went to Japan first. "I can't be bothered with those kinds of things. You know, I have a few things to do.
"But the China trip is sort of traditional for the FSM—Japan, China. Of course, US doesn't really care whether we visit them or not, and that's a shame. You know, sometimes being scolded is better than not being talked to," he said.
"And Australia—I've been thinking about doing an Embassy in Australia. I just can't seem to get the logistics right. I mean, Australia's been here all this time and we need to reciprocate. Australia is a strong supporter of our development efforts, especially with our maritime enforcement.
"Like I said, this trip to China wasn't a surprise to anybody. It shouldn't be a surprise. It's been sort of an expected thing," he said and shrugged his shoulders.
Ships, runway, airplanes, and tourism
One of things not in the press release regarded the two ships China donated to the FSM. "The technical team is arriving today. They've gone to look at those ships in Chuuk and in Yap. They're going to make a recommendation on whether they're worth repairing or they just build a couple of more ships. Their technology now is much better than when we got those ships," he said.
"(In China) we also had a discussion on tourism and my push to opening up Yap as a gateway to Southeast Asia," he said. Doing so would give Yap the same kind of tourism advantage that Palau has had. "And you know, people in Pohnpei and in Yap are going to say, 'well, why Yap?' You know, it just makes sense because of its proximity working from East to West...So, the extension of the runway in Yap is something that I have pushed with the foreign donors. I've spoken to Japan about it at their Embassy here. We seem to get a little bit of a bite in China as part of their tourism effort," he said.
"I also know that the US Air Force has been to Yap to talk to the Governor about extending that runway. Not as a base but just so that they have somewhere to go to, let's say there's a typhoon in Guam...which they've done before, they've brought their aircraft to Chuuk and Pohnpei. They're looking at Yap now which makes sense. Which sort of puts a little kink in my plans of approaching China. But if the US is going to say 'No, China, you can't build this thing.' Well, that fine. We can accept that but then do it," he said.
The President said that the first new aircraft for Caroline Islands Air is due to arrive sometime before the end of the summer but that we have to get pilots up there for some training. "The first plane is already painted and has our name on it. I've just given instruction to TC&I to make the request for a backup airplane. It's not good business to use just a single aircraft for any airline. You need to have a backup," President Christian said.
He said that the plane was an outright grant from China. "We can't buy one but if they give us money, we'll take it."
"It was a very interesting trip. We went all the way up to Harbin where the airplane was manufactured and then back down to Hainan," he said.
All official statements provided to Congress
Congress asked for, and he had provided on that morning, copies of his official statements so that there would be no question on what he was doing with China. He also provided a copy to The Kaselehlie Press. He said that before he even started out for China he knew there would be some skepticism, but added that its mostly people who don't live here; FSM citizens abroad who feel that they know better what needs to be done.
We reminded him that we had witnessed him in a high level bilateral meeting in Southern China and noticed that he simply wasn't intimidated in any way.
"We're still pushing on that, it's what we're pushing for. Remember, we signed a tourist destination agreement, that the FSM would become a destination authorized by China for their people", he said. "Everything that's happened with my push for the airport in Yap goes back to tourism. How each of the States develops their tourism, it's really up to them. All we can do is give them some prompters."
Mutual respect for sovereignty
We also noted that in every statement he made during his earlier bilateral and during his recent trip to China he always mentioned a mutual respect for each other's sovereignty and territory.
"...and it has to be," he said. "China wants the 'One China Policy'. When I came into this office and before I came into this office, it's always been the policy of the previous Presidents to acknowledge the policy. The world perspective on that policy differs and there are personal perspectives too. Your perspective on the One China policy and my perspective on the policy. I may not believe in it but because this is what my government has put forward to China, this is what I said to them," and he read his statement that said that his admini s t r a t ion would adhere to the policy just as the former FSM President's had done. "My personal feeling is one thing but what seven Presidents have said before me, I think, deserves to be protected."
"...and unless we see some great divergence in that policy," he said, and trailed off. "But you know, two countries accuse each other of human rights violations. The US accuses China of human rights violations. China accuses the US of human rights violations. But we're in the middle. As a matter of fact, at some point in the past they talked about the Pacific Ocean being large enough for both of them. And my reaction was, 'hey, we live here! Don't talk as if there's nobody out here!'"
Trade and globalization
"Something more important that I also participated in was China's push to improve its trade with Southeast Asian countries. That was because of the 2008 economic turbulence. The FSM lost money then, so my feeling was that if Southeast Asia could become a strong and stable trading community, it will be good for us, good for the Pacific too. So we do support any strengthening of ties.
"But I also told them, 'look, we're small, and globalization is very far from my thinking right now. I'm thinking about building a road, getting an airplane, and bringing in more tourism. I'm not thinking about globalization. And we're not like the larger economies. They tend to have this big fight and we very often become the spoils of war, an economic one."
"And that will continue and this is why we need to be prepared to make some decisions. What do we do? Do we stand up and cry foul against China or do we work with them and see how much assistance we can get from them?" he asked.
Danger of some sort of takeover?
We asked them if there was any danger of the FSM beginning to look like Saipan or RMI with foreigners owning a large number of businesses.
"We are going to have to look at it, I mean, I've been crying for people to take a look at our foreign labor. The US and the World Bank have been telling us to improve our foreign investment laws. Improve on what? I see every day on the street, there's a new business being set up by foreigners.
"But back to the China trip. They've given us some money which we will divide among the States. What I have done since coming here is take the China money and divide it among the states," he said.
Infrastructure projects to be done by China
"Kosrae has decided they're going to use their $5 million for their road. Chuuk was undecided whether they wanted to use their money for repairing the ship or putting it to extend the road down to Blue Lagoon. Yap is determined to use their $5 million for repairing their ship. Now, if the technical team comes back and says that it's too much to repair that ship, it's up to Yap to come back and say, 'okay, we'll use that money for something else.'"
"The catch is that this money, like the Japanese foreign aid, they would like to come and do these projects, and that's the catch. But I think that China 10 years later is more technologically advanced than they were. I mean you go to China and see all these huge building being built and you wonder why the buildings they built here are falling down. It's because, we ourselves, we were not involved in inspections, and looking at the materials that were going to be used. They just came and put it there. But now we're changing that. We've talked with the Embassy here about how disappointed we are that some of the properties are falling down. They are embarrassed. But in those days when they were building the President, Speaker and Justices houses they were left on their own. We had no inspectors. We didn't have a chance to look at the materials they were bringing in. But now, the Embassy is aware of our concern and we're a little bit more quality conscious than we were 10 or 15 years ago," he said.
"But the gym, that COM gym; that was a loan and I was embarrassed that part of the ceremony was to write off that loan. That's a $3.8 million loan. But we didn't ask. China just offered to write it off.
What does China get and where does the US stand?
We asked him what China wants in return for all of their assistance. "Well, respect for their One China policy," he immediately answered.
"Look, we have diplomatic relations with China. We have diplomatic relations with Australia and many other countries. We have diplomatic relations with the United States. The difference is we have a treaty with the United States that goes beyond just simply diplomatic relationships. And that treaty wasn't brought in overnight. It took 15 years to develop that treaty. And we were comfortable with it. I am comfortable with it and I tell people all the time, that my relationship with China can never be the same as my relationship with the United States. There is a reciprocity issue that must be kept.
"I think that those people who are worried about our relationship with China should be more worried about some executive order that may try to cancel that relationship."