Caroline Fisheries Corporation sponsors big fish tournament in Pohnpei
Details

Category: News
Published: Thursday, 20 April 2017 08:23
Written by Pohnpei Fishing Club
Hits: 1561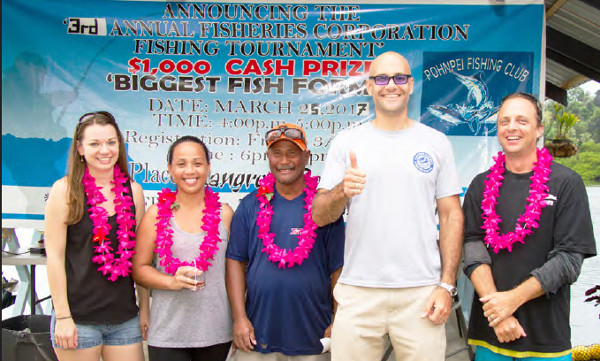 March 25, 2017
Pohnpei, FM—Caroline Fisheries Corporation (CFC) sponsored their third annual Pohnpei Fishing Club tournament this year with prizes going to big fish catchers.
Weather was not a problem for the tournament as it had been for the "Kolonia Klassic tournament" that suffered several weather related delays and ended up happening just two weeks before the CFC tournament.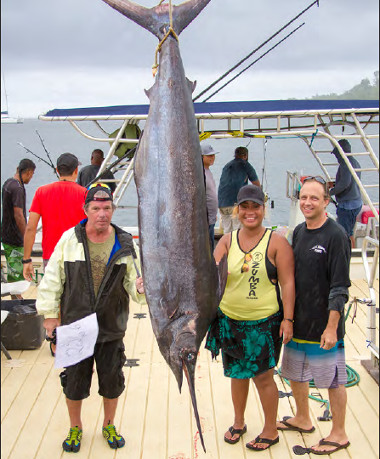 The format for the CFC tournament was for big fish, with cash prizes for the biggest fish. The winners are listed below.
1st Biggest Fish: Marlin 226.6lb , Patrick Blank on Happy Hookers - $400.00; 2nd Biggest Fish: Yellowfin 31.5lb, Jeannie Nanpei on Salt Addiction - $300.00; 3rd Biggest Fish: Yellowfin 30.9lb, Welber David on Poawoawoa - $150.00; 4th Biggest Fish: Barracuda 27.6lb, Welber David on Poawoawoa - $100.00; and, 5th Biggest Fish: Yellowfin 23.8lb, Elarson David on Poawoawoa - $ 50.00
During the tournament, rather than fishing, one of the boats rescued a sailboat that had broken down outside the reef demonstrating that safety is definitely an important goal of the club.
There was a good turnout for the weigh-in. Many thanks to Mangrove Bay for holding the weigh-in. Also many thanks to everyone who helped out including Bill, Tina, James Cook, and Kumer's guys.
There was a barbecue to support the Pohnpei Public Library with tasty sloppy joe sandwiches.
Thanks again to CFC for a fun tournament. See you next time.