Madolenihmw hosts "Cultural Day" at the kings palace in Temwen
Details

Category: News
Published: Thursday, 20 April 2017 08:26
Written by Bill Jaynes
Hits: 1514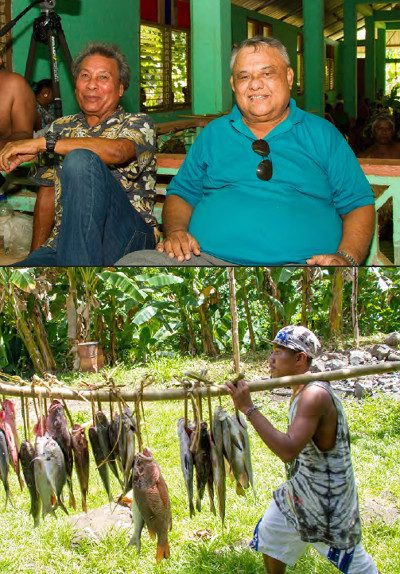 By Bill Jaynes
The Kaselehlie Press
March 31, 2017
Pohnpei, FSM—For several years, Pohnpei Cultural Day was celebrated at the Spanish Wall park in Kolonia but that has changed. A decision was made to rotate the Cultural Day celebrations among the kingdoms of Pohnpei, starting with the kingdom that was established the earliest—Madolenihmw. The celebration was held in Temwen, Madolenihmw in the nahs of the palace of Isapahu Nahnmwahrki of Madolenihmw Kerpet Ehpel.
"Ever since the celebrations started at the Spanish Wall, we've only been seeing demonstrations of Nett culture and nothing from the rest," said one participant in Madolenihmw.
The Cultural Day celebration wasn't necessarily a "demonstration" of tradition and culture. It was more of an invitation to do what they would have done even if there were no outside observers. Very understanding people gently guided outsiders to help them to understand and to make corrections on what was appropriate and what was not inside the very traditional nahs and in the presence of Isapahu Nahnmwarki of Madolenihmw.
The ceremony included the pounding and serving of sakau in a traditional order.
According to the "Australia in Micronesia" Facebook page, the cultural day centered on the construction of two new canoes funded by Australia's Direct Aid Program for Pohnpei Senior Citizens Association. "Kester James, the Program Coordinator from the Association, spoke of how the Sail Pohnpei project demonstrated culture in practice. He spoke of the project being an educational process for all who were involved, and how the hope of Pohnpei Senior Citizens Association is to build on the positive results by educating youth throughout the state on the importance of traditional culture and practices," the page says.
Whenever a new canoe is constructed in Pohnpei, the first catch for those canoes goes to the Nahnmwahrki to distribute as he sees fit. That cultural tradition was carried out during Cultural Day as the first catch of dozens of pounds of fish were presented to the Nahnwahrki, which were then distributed to representative participants until all of the fish were gone.
The canoes landed long before the fish they had caught were ready to be received and dozens of people stood at the Temwen landing for quite a while before they were accepted to present their "first fruits" offering of fish to the Nahnmwahrki.
The Nahnmwakrki's spokesperson, on behalf of the king said that the king was displeased when he looked around the room and found that there were no government officials present, even though it was a government action that created the Cultural Day.
Though Pohnpei senators, including Naiten Phillip and Shelton Neth were present, it appeared that no elected Executive Branch officials were present at the Cultural Day event.
Nelson Pelep and Feliciano Perman were both present. They were Pohnpei Legislature representativeswhen the law creating Pohnpei Cultural Day was passed.
Representatives of the diplomatic corps from Australia, the United States, and Japan were present.