PNG gears up for bigger than ever World Tuna Day
Details

Category: News
Published: Thursday, 20 April 2017 09:03
Written by Ktanaw Hirsch
Hits: 183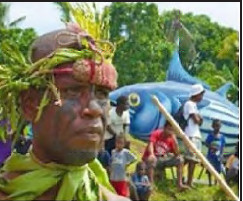 27 March 2017
The first country to ever honor World Tuna Day, Papua New Guinea, is preparing for this year 's even bigger celebrations on May 2nd,just six weeks away. The festivities will be the first to be rejoiced globally, thanks to a UN ratification of the event last year.
PNG first commemorated the PNA and Pacifica! initiative in 2012 and is this year hosting several events to mark the occasion, around the theme: "Talk Tuna, Fish Tuna, Eat Tuna, Atun-Ability for Manageability & Sustainability ". The day aims to remind people all over the world of the importance of protecting and conserving tuna species, and is a chance to celebrate tuna as well as the PNA region, which controls the world 's largest sustainable skipjack fishery.
A number of activities have been lined up across the country by PNG's National Fisheries Authority (NFA). Educating children about the tuna fishery has been a priority of the events, and this year school children will get the chance to compete in poem and debate competitions to enhance their knowledge on the tuna fishery, as well as the opportunity to win cash prizes and library books on fishery science for their schools.
There will also be a song competition where the winner can grab a cash prize as well as the chance to perform at the opening of the Pacific Tuna Forum and the Pacific Seafood & Technology Exposition on September 12th 2017.
On World Tuna Day, the NFA will host display booths for the public to learn more about the work of the NFA in relation to the tuna fishery, and the industry has also been encouraged to participate at this event by displaying their tuna products.