Cultural Talent Show raises over $15,000 for Our Lady of Mercy Catholic High School
Details

Category: News
Published: Thursday, 20 April 2017 09:10
Written by Bill Jaynes
Hits: 1488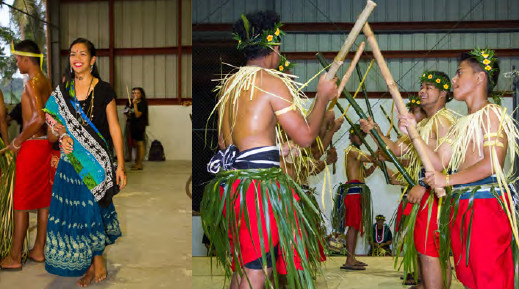 By Bill Jaynes
The Kaselehlie Press
April 1, 2017
Pohnpei, FSM—The students and teachers of Our Lady of Mercy High School (OLMCHS) put on a multi-cultural talent show in their gym on Saturday evening. The event was a fund raiser for the school which organizers say was highly successful. The final figures aren't in yet but Vice Principal Russell Figueras says that so far he feels confident in saying that the amount raised was approximately $15,000 after fundraising expenses, including costumes for the performances.
"We are happy to note also that a big part of the fund raised came from the Mercedarian Missionaries of Berriz (MMB) Sisters in Saipan and MMB friends and family in Saipan. They sent us $9,000 worth of raffle tickets and cash donations," Figueras wrote.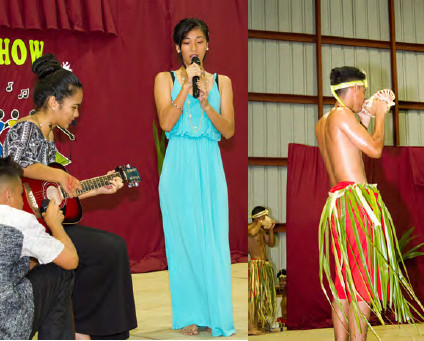 The students sang, danced, and played instrumental solos. All in all there were 20 separate performances representing the cultures of teachers and students at the school which included dance numbers from Pakistan, Kiribati, Pohnpei, the Philippines, Chuuk, Yap, Colombia and one heavily suggestive number representing "Youth Culture". Jourdyn Adams played three piano solos during the evening. Physical Education teacher Nimrod Hall played a beautiful 12 string guitar and sang one number, and two students of the school sang a duet mostly in Spanish.
A raffle was also held with 16 consolation prizes and three main cash winners. Pohnpei Catholic School Principal Bernie Helstrom won the third prize of $200, Rosa Palacios won the second prize of $300, and Andrew Falcam won the top cash prize of $500. The gym was packed and was standing room only throughout the evening as students rushed back and forth to change costumes for their next performances. Figueras said that special thanks for their donations and assistance goes to OLMCH PTA Office, MMB Sisters in Saipan, The Bank of the FSM, Pacific Landscaping, Engineering, and Construction Company, Caroline Fisheries Corporation, Ray & Dors Store, CTSI-Pohnpei, Genesis Hospital and Pharmacy, Palm Terrace, Kia's Restaurant, Seven Stars Inn, and The Village Travel.