US Peace Corps, Mahi International, the FSM Government, and Symtech Solar provide power to Pakin
Details

Category: News
Published: Wednesday, 03 May 2017 14:42
Written by Bill Jaynes
Hits: 2419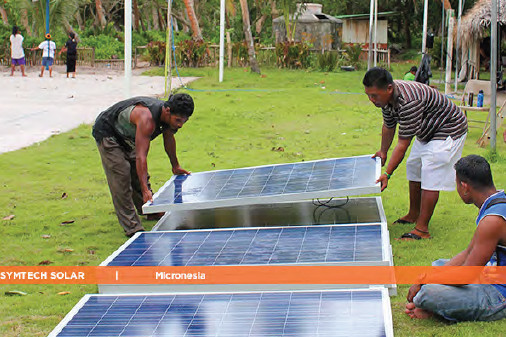 By Bill Jaynes
The Kaselehlie Press
April 18, 2017
Pakin, Pohnpei—Symtech Solar, a renewable company has recently completed phase two of a solar power project on Pakin Atoll in Pohnpei, according to its newsletter.
"Symtech Solar partnered with Peace Corps and Mahi International to install Phase 1 of a group of solar PV systems on the island's local school to help bring the area out of fossil-fuel dependency," the newsletter said.
"Since the inception of this project, the local people and government have relied happily on this Off-Grid PV system to provide ice making capabilities, lighting, and computer power for their local school."
Phase 2 added another 4kW Off-Grid photo-voltaic (PV) system including a 24 meter telecom tower that will serve to provide a communications link between Pohnpei and Pakin.

"As there are daily trips aboard small fishing and tourist boats between the islands, the local government hoped to provide both full data and cellular communications coverage between the islands including Ant and Pakin Atoll," the newsletter said. "This coverage will allow for not only better communication between the islands but provide internet services for the local school and much better emergency communication services for those boats that could experience emergencies during their inter-island voyages."
"Since Pakin Atoll is often hit with multiple swell and weather formations, it is imperative for the local government to offer better emergency response and communication services to the local islands", said Congressman Ferny S. Perman. "Adding this telecommunications outpost will offer the Pakin Atoll school internet access thus providing better educational services and communications capabilities to the local islands."
The newsletter said that the Phase II project includes 16 roof mounted solar panels and then went into technical details we are not technically equipped to understand. It says that the system will provide more than 18 kilowatt hours per day in usable energy from the roof mounted array while also storing 11 kilowatt hours of "usable energy" in the battery bank.
"This system eliminates the need to rely on power generation from diesel fuel generators and the transportation costs of liquid fuels from the main island," the online newsletter said.
"We are extremely excited to continue our support for the local communities of Micronesia and try our best to promote both the training and maintenance resources of our products to the local people", explained Symtech Solar Co-Founder Geoffrey Moser. "We love the idea of offering energy independence and clean energy services to some of the most remote places on earth."
"Pakin Atoll's economy is primarily based on its fishing industry, but with stark limitations to electricity access, business development proves to be very difficult," the newsletter says. "Essential revenue for the people of Pakin Atoll is derived from preserving marketable fish and transporting them to Pohnpei for sales. However, even such basic tasks, such as ice preservation, are inhibited without electricity.
"Clean, reliable energy supply supports businesses in the region, which drastically stimulates the local economy, in addition to offering ultimate electricity independence and consistency. Such ripple effects in Pakin Atoll demonstrate the significance of solar installation and serve as a hopeful symbol for energy development in the future," the newsletter concludes.