British coach in Pohnpei helping to reignite a passion for soccer
Details

Category: Sports
Published: Wednesday, 03 May 2017 15:57
Written by Bill Jaynes
Hits: 3800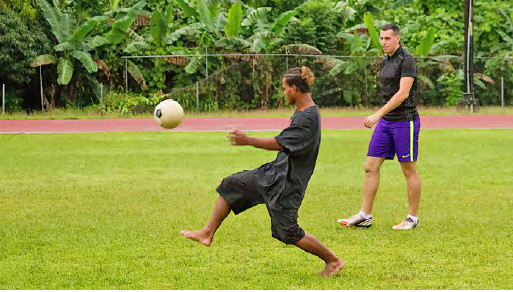 Bill Jaynes - The Kaselehlie Press
April 20, 2017
Pohnpei—Football (Soccer) coach Chris Smith is from Nottingham, England, the land of the character of medieval folklore, "Robin Hood", who supposedly stole from the rich and gave to the poor. But Smith is neither an archer nor a swordsman. He doesn't have a band of "Merry Men" but he does hope to foster a band of soccer players in Pohnpei. He is on his own, using his own money and the money of interested donors in order to continue the work of those who have gone before him to rekindle a love of soccer in Pohnpei, and to help provide a route for the sport to be followed for those who are interested in doing so.
He arrived in the wee hours of Monday morning, April 17, not having any clue what time it was or what day it was after having spent three and a half days traveling from the other side of the world. A few hours later, he was at the PICS field, face to face with 25 eager young soccer players.
"If there were a bunch of guys with this determination in England, they'd be going places," he said. "First thing I noticed was, they are not pulling out of tackles. Yeah, the commitment can't be questioned. I'm scared to play with those guys as someone who is managing an injury." It was an ACL injury and several surgeries that took him out of game play. After several years of recovery and no injuries, just three weeks before he came to Pohnpei, he injured his knee again.
"But as far as these guys, they're not scared of that. Half of them are in bare feet and half of them are in boots, but it doesn't matter," he said. "But it's that commitment though. They have no boots and the pitch is 'that' deep in water, they still do it. They still come out."

Smith hasn't been sitting still. He hit the ground running and that's what he intends to keep doing for the three months he will be in Pohnpei. He's already arranged to conduct 10 soccer seminars next week at elementary schools around the island.
When asked if the three soccer "pitches" in Pohnpei are enough, Smith said that soccer can be played anywhere and can be scaled down depending on how many people are on a side. "When I talk to people, they talk about the challenges, but I've kind of not seen any of them yet. I don't feel like there's a lack of facilities. I mean, you can play football on a basketball court, a tennis court or volleyball court, or anywhere, really. And then just throw a couple of shoes down as a goal and you have a competition. You don't even really need to keep score." he said.
"I was talking with a principal in Kitti and he said, 'Yeah, there's a pitch down here, but people really need to know how to play. They want to know how to play.'" And that is what Smith is here to do.
Smith said that before he came to Pohnpei he really had no idea what to expect but now that he's here, he is full of ideas of how to further the game of soccer in Pohnpei.
He's an accredited coach and has coached teams in Nottingham, Vietnam and Bangalore, India. He said that in Bangalore, the traffic was so bad that though there were many teams throughout the huge city, no one would agree to travel to matches. "I mean, in Bangalore, going five miles would take an hour," he said. "So we'd try to set up matches but the other team would say, 'Okay, you come here', and the team I was coaching was saying, 'No, you come here,' and it just never happened really, so we just ended up doing a lot of training with no particular match to plan for. So it was sort of easy for team members to kind of lose their motivation."
He said that currently, the only goal the players in Pohnpei have is preparing for the 2018 Micro Games but those games are a long way off. It's hard to stay motivated when all the players are doing is constantly drilling for matches that are over a year away.
He hopes to establish "five a side" type matches in smaller spaces on Pohnpei so that there will be more opportunities and matches and so that players will have something to work toward.
As to how he came to be here, he said that he responded to a Tweet from Paul Watson, the British coach who came to Pohnpei several years ago and coached what was to be the National Team. Watson wrote the book "Up Pohnpei" based on his experiences here and a video of his experiences is in production. Smith said that more than anything, Watson wanted to see the football seed he planted to be nurtured.
Smith said that he and Watson had a Skype chat a few months ago while Smith was in Bangalore and that Watson spent more than half the time apologizing to him for asking him to coach in Pohnpei. Watson told him that he'd spend a lot of money doing it. As the conversation progressed Smith ended up trying to sell himself as the right guy to do it.
So far he has been doing a bit of coaching every evening at the PICS field with whoever shows up. The weather hasn't been particularly cooperative so far but it hasn't kept the soccer players from turning up whenever they can.
A newspaper article in Nottingham about Smith's upcoming venture repeated the tired label regarding FSM soccer, 'the world's worst international football team'. We asked him what he thought of that label. "The thing is, they don't believe it, and to be honest, if they are, that's not their failure. It's a failure on organizations like FIFA or the Football Federation but kind of leaving them behind. I mean you've got organizations like FIFA saying things like, 'football's for everyone. We're here to develop football'. Then they've got to prove they are. It's no one here's failure. I mean anywhere else in the world if I had a bunch of guys with this determination, they'd be going places. I mean it's not their failure," he said.
"I joke around with some people saying that the only thing worse than being the worst team in the world is being the second worst because no one talks about them," he laughed.
The FSM has had a pending application with FIFA for several years now. Perhaps just getting their attention will be all that is needed.