Record number of boats sign up for NFC and TMC sponsored $10,000 tournament
Details

Category: News
Published: Saturday, 20 May 2017 07:52
Written by Pohnpei Fishing Club
Hits: 1014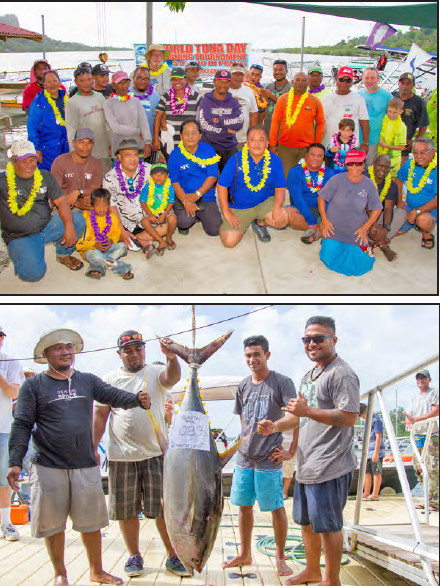 Pohnpei Fishing Club
April 29, 2017
Pohnpei—In conjunction with the first ever international "World Tuna Day", FSM's National Fisheries Commission and Taiyo Micronesia Corporation sponsored a fishing tournament offering $10,000 worth of prizes. The purse attracted 37 boats, a record for any previous Pohnpei Fishing Club (PFC) tournaments.
It was also the first tournament to award separate prizes for two classes of boats—small boats with 40 horsepower or less, and big boats above 40 horsepower. Prizes were evenly divided between the two classes of boats. The smaller boats couldn't range as far and as fast as the higher powered boats. However, it was Ioanis Mikel who won the top prize of $1000 for his 154.3 pound marlin aboard Miss Enpein, a boat with only a 15 horsepower engine.
The remaining top combined prizes for "biggest fish" went to people fishing aboard "big boats".
Mary Tretnoff won $800 for her 112.4 pound marlin.
Westcott Panuelo landed two large yellowfin tuna at 108.9 and 100.3 pounds earning him the third and fourth prizes for a total prize purse of $1000.
Ryan Hawley also caught a large yellow fin at 96.6 pounds. His catch earned him $300.
The remaining prizes were for largest of each species for each class of boat engine size.
For the smaller boat engine sizes, Wilfred Edmund landed the largest Yellowfin Tuna. At 28.7 pounds, his catch earned him $200. The second largest yellowfin was 10.8 pounds, caught by Arnold Henry, earning him $100.
Snyder Biza caught the only wahoo in the small boat category which gave him the top prize of $200 for his catch.
For Barracuda, Kojack Sienes earned $200 for his 17.6 pound catch, and junior angler Dave Spencer took second place for $100 with his 10.1 pound barracuda. He also won top prize as a junior angler in the category for a 13.4 pound barracuda.

Wilfred Edmund caught a 14.1 pound skipjack tuna for the $200 prize. Okai Johnson landed the second largest skipjack at 11.9 pounds for the second place $100 prize.
The only top prize that Westcott Panuelo won was for the largest Yellowfin Tuna in the "big boat" category. His 88.4 pound yellowfin earned him yet another $200, making him the largest cash winner of the tournament for a total of $1200. He also had the honor of having his daughter place the winner's lei around his neck, along with big hugs. Mark Johnny won the $100 second prize for largest Yellowfin Tuna. His was 80.9 pounds.
Senator Ferny Perman won $200 for his 26.9 pound Wahoo. Konrad Englberberger won $100 for his 15.4 pound wahoo. He also won another $100 for his 15.4 pound Barracuda, edged out by first place female angler Melinda Sultan, who won $200 for her 15.9 pound barracuda.
Opel Hallens caught the only Skipjack Tuna in the large boat category and won $200 for his 18.5 pound fish.
The $200 first prize for "lady angler" went to Arleen David for her 67.9 pound Yellowfin Tuna. The second prize of $100 went to Mary Tretnoff for her 9.5 pound Barracuda.
Junior anglers were prominent at this tournament. Lochlon Andrews won the $200 first prize for "Junior Angler" with his 21.6 pound Wahoo.
Dane Nighswander continues to build his college fund. The prolific junior angler won the $100 second place prize for his 11.7 pound Barracuda.
No Mahi Mahi were caught during the epic National Fisheries Commission and Taiyo Micronesia Corporation tournament.
The club also has a rule of one prize per fish which meant that a fish that qualified for a prize in the top 1 to 5 category could not be the biggest fish in a species category.
The weather held up well for the tourney, and the awards ceremony took place at Mangrove Bay. All the winners were announced and received their prizes. As an added bonus, each boat that entered and came to the weigh in received a $50.00 cash prize. There were a lot of happy fishermen, even if they had a bad fishing day.
Many thanks to Taiyo Micronesia and NFC for sponsoring this tournament. It was a lot of fun for all the participants.
Many thanks also to Bill, Tina, Cel, all of Kumer's guys, and everyone who helped out. The Club supports the Pohnpei Public Library, and Uta was there selling pulled pork sandwiches and hot dogs.
NFC Director Peter Sitan said that the National Fisheries Corporation and Taiyo Micronesia corporation hopes to sponsor an even bigger tournament next year.
The annual tournament for the Pohnpei Fishing Club is set for May 10 and 13, very close on the heels of the club's largest tournament ever.