Near record marlin caught during Pohnpei Fishing Club two day tournament
Details

Category: News
Published: Monday, 05 June 2017 15:27
Written by Pohnpei Fishing Club
Hits: 1562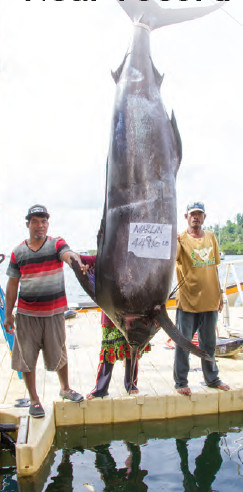 By The Pohnpei Fishing Club
May 13, 2017
Pohnpei—A two day fishing tournament of the Pohnpei Fishing Club (PFC) finished today. Petsin Abiner very nearly broke the club record for a marlin when he landed his 448.6 pound marlin. The previous record had been 450.6 pounds.
Certainly there are some large boats with big engines that compete in the fishing tournaments but there are also small boats. Abiner's was one of those. His marlin nearly filled his boat and he was only running a 40 horsepower motor. Further, Abiner caught his marlin on a handline, a truly amazing feat. If his fish had only been two pounds heavier he would have walked away with the marlin jackpot that keeps growing and is now at $2500; missed it by "that much".
The tournament started on FSM Constitution Day, a national holiday, and concluded on Saturday May 13.
Anglers competed for thousands of dollars in prizes. The top two anglers also won trips to the 25th Annual All Mike Tournament in Majuro. Those two prizes and others were sponsored by Ambros, Inc.

Prizes were awarded for the ten biggest fish, the top two fish of each species, top two fish caught by lady anglers, and the top two fish caught by junior anglers. Anglers could win only one prize per fish.Petsin Abner's fish was the largest, earning him the trip to Majuro for the All Mike Tournament, $100 and an FSMTC cell phone. Johnny Duffy also caught a marlin of a nice size. His 195.6 pound marlin earned him the second trip to the All Mike and an FSMTC cell phone. Mary Tretnoff brought in a 91.9 pound yellowfin for the third prize, earning her $500 from the Bank of the FSM and an FSMTC Cell Phone. Fourth place was Johnny Hedson for his 88.2 pound yellowfin. He won $400. Fifth place was Santriko Ioanis for his 87.5 pound yellowfin, winning him $350. Sixth place was Mark Johnny for a 79.4 pound yellowfin for $300. Mark Figueras pulled in a seventh place 73.9 pound yellowfin and won $250. Mary Tretnoff had another good sized yellowfin at 67.2 pounds that earned her another $200 for 8th biggest fish. Welber David's 64.6 pound yellowfin was 9th biggest for $150. In 10th place was Nihk Gilmete with a $58.6 pound yellowfin.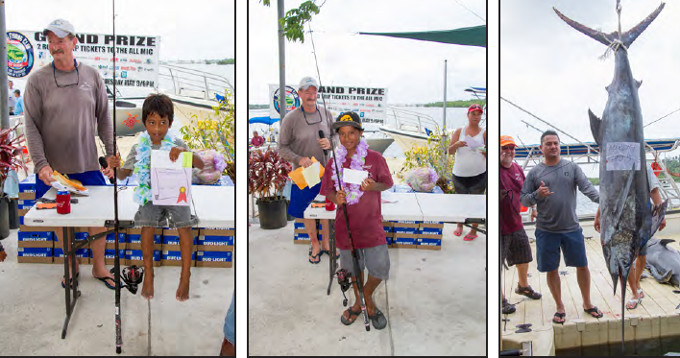 Fourth through 10th place winners also each received a $50 and a $25 gift certificate.
The first place winners for each species of fish in the "biggest of each species" category each won two $50 gift certificates. Second place took home two $25 gift certificates.
For yellowfin, the top two fish were caught by Junior Spencer and Keoni Musrasrik. Spencer's fish was 57.3 pounds and Musrasrik's was 46.1 pounds.
Maria Spegal landed a 23.8 pound wahoo for first place, followed by Konrad Englberger with a 22.9 pound wahoo.
The largest skip jack at 19.0 pounds was caught by Rosey Marquez followed by Maria Spegal's, which was 16.5 pounds.
Johnny Hedson's Grand Trevally was 17.6 pounds, edging out Sean Iron's 16.1 pound GT.
Konrad Englberger's barracuda skills showed with his winning 16.5 pound fish. Welber David's was just behind at 14.3 pounds.
Junior Spencer's second winning fish was a bit smaller than his other fish but still a respectable 32.6 pound yellowfin, winning the prize for junior angler. For that he won $50 cash, a rod and reel from Ace Hardware, a $50 gift certificate for a pizza from Ocean View West Wing. Spencer Mikel was the second place junior angler with a 30.9 pound yellowfin. He won $25 cash and a rod and reel from Ace Hardware.
The top two lady anglers were Mary Tretnoff for a 45 pound yellowfin and Denise Etscheit for a 41.2 pound yellowfin. Tretnoff received $50 cash, a $50 gift certificate, and an overnight stay at Ocean View West Wing. Etscheit received $25 cash and overnight stay at Ocean View cottages.
All 23 boats that registered and took part received a case of Budweiser from Ambros, Incorporated, a $20 fuel voucher from Vital, and free t-shirts from Ambros, Inc. Grilled hot dogs were also free for all anglers.
During the last day's weigh in the club raffled some prizes from several sponsors and spectacularly including a trip to Mwokil or Sapuafik on Caroline Island Air, and a trip to Andt sponsored by LP Gas.
We can't perform this type of tournament without our sponsors. We want to thank all of them:
Ambros, Inc. (Budweiser), Bank of the FSM, NFC, Vital, MRAG, Ace Hardware, LP Gas, Etscheit Enterprise, Cupids, Blue Nile, Moylan's Insurance, Pohnpei Port Authority, Bank of Guam, LP Gas, Pohnpei Surf Club, Ocean View Hotel and Restaurant, Panuelo Enterprises, Arnold's, Mangrove Bay, Kumer Panuelo Gas Station, Pohnpei True Value, FSM Telecom, CTSI, Caroline Island Airways, and Charles (Chuck) Handy.
The weigh in was also a success, thanks to everyone who helped, Andy, Paul, Tina, Serlynn, Uta and Lucas on the hot dogs, and all of Kumer's guys. We also want to thank Mangrove Bay for allowing us to use their facility, and their staff did a great job.
A good time was had by all and it turned into an all evening affair.
Thanks to everyone for making this tourney a great success.