Kolonia Town celebrates its 52nd anniversary with a parade and ceremony
Details

Category: News
Published: Monday, 05 June 2017 15:31
Written by Bill Jaynes
Hits: 1181

By Bill Jaynes
The Kaselehlie Press
May 17, 2017
Kolonia, Pohnpei— Escorted by a full Kolonia Town contingent of police officers, with sirens blaring, people of Kolonia Town paraded from the Pohnpei State government building to the Kolonia Town government building for the 52nd commemoration of their "Charter Day".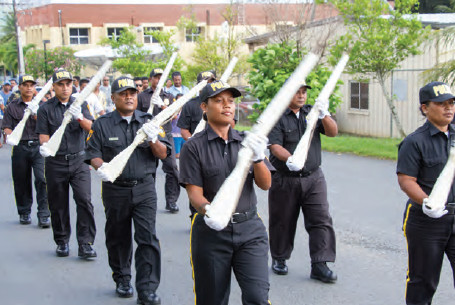 "Kitail linganiki atail tepsang wasa tohto ahpw kak ehupene pahn ehu government oh kolokal soaramwahuen atail wasahn kouson oh en kak mwahueng en dih en mwuhr akan," was printed in the program. Roughly translated, the sentence means "We shine from our different cultural backgrounds but unite under one government and uphold the true heritage of our origins for the sake of the next generation."
The parade started later than planned, as did the formal ceremony at the Kolonia Town government building. The ceremony began with an opening prayer, and welcoming remarks were provided by the Speaker of the 9th Kolonia Town Council, followed by the laying of a wreath for former lead ers of the Kolonia Town government.
The Honorable Tadasy Yamaguchi gave a brief history of Kolonia Town. The ceremony closed with remarks by Kolonia Mayor Jose San Nicolas.