Jenna Deena Panuelo crowned as Miss Water in Miss Earth Guam pageant
Details

Category: News
Published: Saturday, 15 July 2017 12:20
Written by Bill Jaynes
Hits: 2276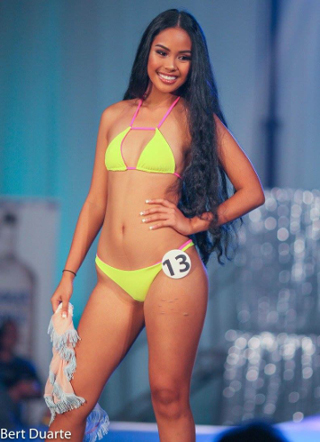 By Bill Jaynes The Kaselehlie Press June 29, 2017 Guam—
17 well prepared but very nervous contestants graced the runway on June 21 at the Sheraton Laguna Resort in Guam. Each one hoped that they would be named Miss Earth Guam. One of those contestants was 18 year old Jenna Deena Panuelo of Pohnpei. When it was all over Jenna had been named second runner up with the title of Miss Water, and appropriate title for a woman from Pohnpei. Each of the contestants environmental and non-environmental platforms, short paragraphs describing issues they are passionate about. Jenna's environmental platform was on raising global warming awareness.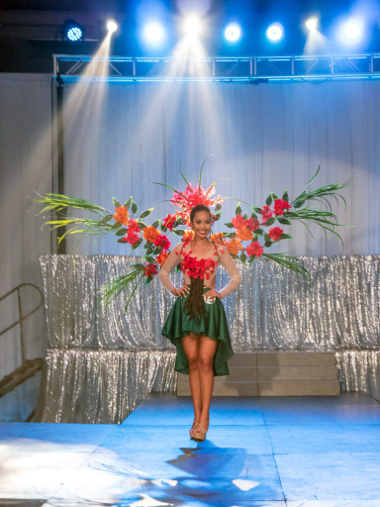 "Jenna knows that global warming is a real problem. She also knows that people who aren't affected by it do not believe that it is real. We can raise that awareness by speaking up and showing others what is at stake, our culture, islands, and history," is said. Her non-environmental issue was on positive body image. "Jenna believes that with a positive body image, comes a positive mind set. Many people today do not have a positive body image due to what our society set as 'a nice body.' We could help each other by embracing our differences; spreading more positivity, and less negativity." Though social media posts made it seem as if the contestants would be judged on the basis of the "most likes" on the pageant web page, the contestants were judged by a panel of eight judges on the swim suit, native costume, and evening gown categories. They were also judged on their poise during a question and answer segment during the coronation ceremony. Contestants could also win in a number of other categories. Contestant #5, Tyler Torres was chosen as the "people's choice" winner for her social media "likes".
The judging wasn't accomplished all in one evening. During the preliminary pageant on June 14, contestant were judged on the swim suit and creative costume categories. Jenna designed her creative costume on the idea of the "flame tree". "I chose that because in Pohnpei, our flame trees didn't bloom very much, so when I saw the ones here, I was completely mesmerized by the colors and how orange and red they were," she exclaimed. She also was captivated by the legend of the flame tree, a very old Chamorro tragic story with a similar story line to Shakespeare's Romeo and Juliet. Jenna described the evening of the Coronation pageant. "Coronation night was so crazy, I just couldn't believe that everything happened all in one night. We walked out on stage and introduced ourselves individually, then we did a dance number. Afterwards, we walked out on stage and strutted our stuff in a brand new Chamorrita Swimwear bikini, which they made especially for us for that night. Then we walked out in our evening gowns. The gowns were hot and painful. "After that was the big moment we all were waiting for, They called out the top 10 contestants out of 17 of us! They called us one by one in random order, and I was so happy I was called to be top 10! That was when we answered our questions that they gave us.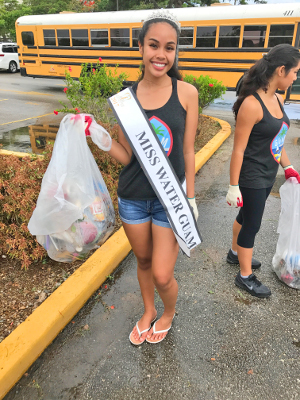 Question and answer was the most nerve wracking part of it, because you need to study and have knowledge to be able to answer a question without rehearsing it. I believe I did pretty good on that part, I mean it did get me to top 4! I won't lie though. I was so shocked when they called me up for top 4! I almost cried when I had to go backstage to wait for my final question as a contestant in the top 4! I held it together because I knew I had to go back onstage. "So they gave us our final questions and afterwards, they crowned the top 4 and my heart was racing, my feet were shaking, everything was out of control yet my smile came naturally. They called the 3rd runner up, Miss Fire Guam 2017, Julia Naputi Rivera. Then they called 2nd runner up, Miss Water Guam 2017, Jenna Deena Panuelo! They then called 1st runner up, Miss Air Guam 2017, Jestyne Sablan, and then Miss Earth Guam 2017, Emma Mae Sheedy. Just being in the top 4 was unbelievable for me, and I couldn't be any happier with the results because I gave it my all and I placed!
We all worked so hard during this pageant, we did it!" Jenna said that she was so nervous and that so much has gone on since then that she not only couldn't remember how she answered her questions, she couldn't even really remember what she was asked. We told her that it appeared that all of the FSM was pulling for her. "I know! It was crazy," she said. "The support I received throughout the pageant was unbelievable!! I only expected a few family members, but I got so much more than that!" She said that as second runner up she will be involved with pageant related events during the upcoming year. She said that the President of the Committee, Frank Santos also has other pageants internationally that he may send them to. "Miss Water Guam 2016 has been on multiple trips with Guam Visitors Bureau. So I believe that we will also have opportunities like that as well." Since the pageant, the supervisor of the pageant has asked Jenna if she want to model for his agency, JRocket Models. She said that she is still thinking about that. Both of Jenna's parents have been enormously supportive of her as she prepared for the pageant. Her mother, Janet Panuelo said that she is extremely proud of the confidence Jenna has had to "put herself out there" in the way that she has done. She and several other friends and family members were in Guam rooting her daughter on during the pageants.
Her father, Senator David Panuelo of the FSM Congress was unable to be in Guam but he shared an email with me that he sent to his daughter after the event. I made this journalist cry: "Je, I'm tearing just remembering how not too long ago you were just my little baby girl.....and now look at you! I know how proud and confident you must be feeling after all the hard work you've put into all the activicities leading up to the final event - I love your disposition which shows elegant humility mixed with unfailing courteousness - it defines the beautiful character you have and the person that you have become. Well, I know you know that your elegant humility and unfailing courteousness doesn't mean you're not tough. It means you're an educated young adult with intellect and good character - what parent would not be proud of a daughter like you," he wrote.