Youth group builds three dimensional scale model of U
Details

Category: News
Published: Saturday, 15 July 2017 12:55
Written by Bill Jaynes
Hits: 1809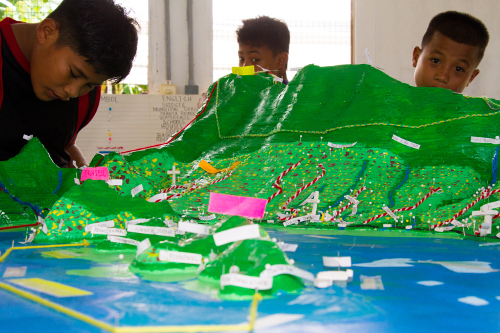 By Bill Jaynes The Kaselehlie Press June 29, 2017 Pohnpei, FSM—
This afternoon the makers of a stunning three dimensional scale model of U officially turned over their creation to the U Municipal government. The scale model was built using quarter inch sheets of foam board. Each layer of foam represents 10 meters in elevation. The highest point in U is 660 meters and required 66 layers of foam board to represent it. It is currently on the property of the Un Municipal government. The model was a cooperative effort between the U Municipal Government, leaders, the Conservation Society of Pohnpei, Pohnpei State Government, The Nature Conservancy Micronesia program and the Micronesia Conservation Trust. Patrick Vuet of Partners with Melanesians and Mike Aulerio of The Nature Conservancy oversaw the project with assistance from Bejay Obispo and Angel Jonathon of the Conservation Society of Pohnpei.

21 young people from U, four interns from CSP and community elders from U made the beautiful and useful model. Construction began on June 19 and was completed on June 28th. Vuet explained that the model was derived from a precisely accurate, flat topographical map that had contour lines on it indicating elevation. The 8 x 8 foot base was marked with a grid and each sheet of foam was precisely locate on the three dimensional scale model to be accurate in a 1:5000 scale. Everything on the 3D model is precisely located including the location of a ship wreck on the reef.
"The U Municipal Government has taken many strides this year to improve management of its natural resources," Micronesia Conservation Trust Director Willy Kostka wrote. "In February, its leadership endorsed their Locally Managed Marine Area- Fisheries Plan, the first of its kind in Pohnpei. To further ensure the sustainable management of their resources and successful implementation of the plan, it was decided that a tangible and visual model of U's territory in the form of a 3D map is essential. U realized that overfishing is not the only threat to their fisheries, but also other pressures, like eutrophication (excessive richness of nutrients in the ocean that runs off from land), sedimentation, and pollution which result from deforestation, development, and farming. Having the model in place will assist U leadership and communities to visualize potential environment risks/ threats from unsustainable development." He said that the initiative is the first of its kind not only in Pohnpei, but in all of the FSM.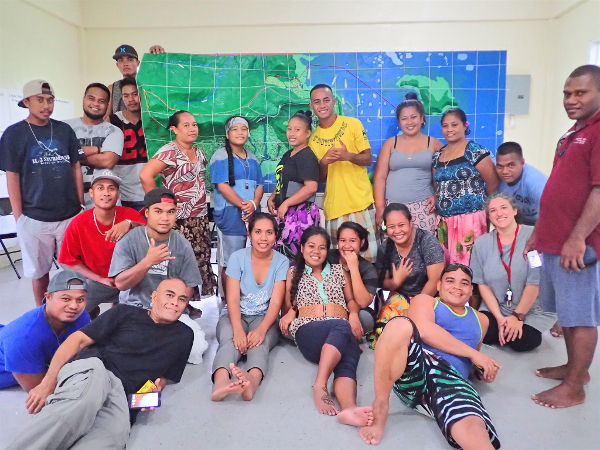 The completion of the model is another stepping stone for U for sustainable management of its resources. Ricky Carl of The Nature Conservancy said that there are not currently plans to fund another project of its kind but that it could be considered depending on community interest. The Micronesia Conservation Trust sent a list of names for special acknowledgement: Thelsa Abraham, Maiko Agrippa, Manwick Albert, Marvin Andon, Antrea Anton, Nate Ben, Ethan Donre, Mayuleen Edgar, Natasha Edwin, Keston James, Jarid John, Lizzy Joseph, Jake Katau, Dyson Kilmete, Avaleen Lohn, Juliet Mathias, Zelnick Moses, Ramsey Narruhn, Berly Primo Pedrus Primo, Trini Ramires, Lainyleen Ramirez, Tanya Semes, Sidney Simram, Theron William, Kaudensio Marquez.