FSM Senator delivers commencement address at Eastern Oregon University
Details

Category: News
Published: Saturday, 15 July 2017 12:59
Written by Bill Jaynes
Hits: 2053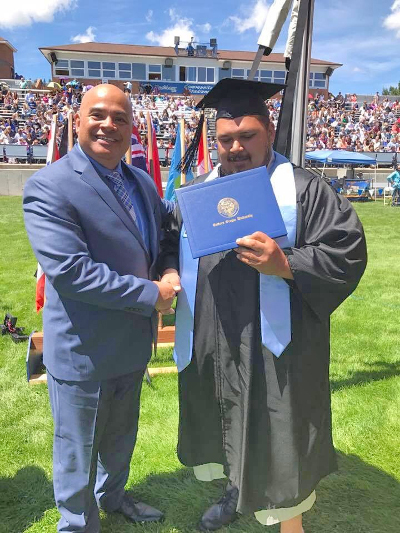 By Bill Jaynes The Kaselehlie Press June 27, 2017 FSM
--Senator David Panuelo, Pohnpei's At-Large representative to the FSM Congress was honored to be invited to give the key note speech at Commencement at his alma mater, Eastern Oregon University in La Grande, Oregon on June 17. Like many other FSM graduates of EOU, Panuelo's story has so far been a highly successful one. He graduated from EOU in 1987, after which he returned to the FSM and quickly began a career in foreign affairs working in Australia, Fiji, and New Zealand. His last overseas appointment was as the Charge d'Affaires for the FSM's mission to the United Nations. He served as Secretary for Economic Development in Pohnpei before serving a brief stint as Assistant Secretary for American and European affairs. Afterward he shifted his attention to the private sector.
After starting a successful construction company he founded the community non-profit, Care Micronesia Foundation. In 2011 he was first elected to a two year seat at the FSM Congress and in 2015 was elected as the four year at large representative for the Pohnpei delegation. Among the more than 900 graduates, the class of 2017 included five students from the Micronesia region. Faylynn Floriano of Palau earned a Bachelor of Science in Business Administration, Jordan Repeki Suel of Saipan earned a Bachelor of Science in Integrative Studies, Matthew J Muritok, of Chuuk, FSM earned a Bachelor of Science in Philosophy, Politics & Economics. Ngeyaol Polycarp of Palau earned a Bachelor of Science in Agricultural Sciences and Crop & Soil Sciences. Valentin Martin Jr. of Pohnpei, FSM earned a Master of Business Administration.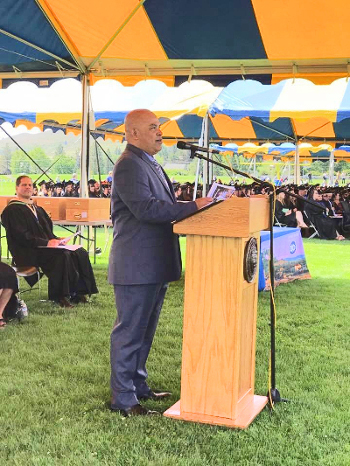 Panuelo did not share highlights of his keynote address but told EOU prior to the commencement, "EOU, in no small measure, played a major [role] in the building blocks of my life," Panuelo said. "I am deeply indebted to the faculty and staff who were so generous … and opened up my horizons to see and explore the world through the prism of EOU." "Become a global actor — our issues are no longer local," Panuelo said. "Degradation of our environment, extinction of species of plants and animals, onslaught of climate change and sea level rise, spread of communicable diseases doesn't respect borders. The world we live in today is much smaller than you think." "Life is an incredible never-ending journey in an arena of learning — EOU has given you the best," Panuelo told an EOU reporter. "So graduates go out there and just get it — just get it and turn them into your own life-changing stories that not only benefit you, but humankind around you in our shared world today." "20 students graduating from EOU with bachelors or masters degrees is not a big deal in the United States," he wrote in an email. "But for a small island nation like ours it makes a world of difference." He said that after his commencement speech he presented a Resolution that he sponsored that was adopted by the 20th Congress and a $10,000 donation from the 20th Congress to the EOU Foundation in appreciation of the school's significant role in the development of its human resources. He listed the FSM alumni from the school, a virtual "whose who" list including himself: Congressman Robson Romolow, Governor of Pohnpei State Marcello Peterson, Lt. Governor of Pohnpei Reed Oliver, FSM Ambassador to Fiji Sabastian Anefal, President of the FSM Development Bank Anna Mendiola, CEO/President of the Pacific Islands Development Bank Aren Palik, Pohnpei State Senator Edgar Likaned, State Senator Marvin Yamaguchi, Former State Senator Robert Nakasone, Businessman Frank Panuelo, Businessman Kumer Panuelo, FSM Bank Branch Manager Kenneth Welles, and COM-FSM Librarian Bruce Robert.