From Micronesia to the Arctic - Developing Future Indigenous Climate Leaders
Details

Category: News
Published: Saturday, 15 July 2017 13:06
Written by Island Research & Education Initiative
Hits: 2785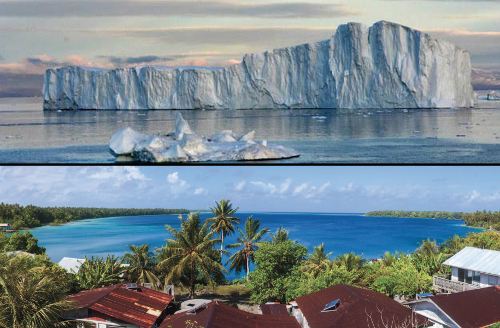 Island Research & Education Initiative June 29, 2017 FSM—
Imagine traveling from our tropical islands to the farthest northern reaches of the planet, where tundra covers the land, the ocean is full of icebergs, and people hunt seals for food. Is there something we have in common with people living there and what can we learn from each other? This coming August, two students from the FSM and one from Palau will have the amazing opportunity to find out. As distant and different the northernmost parts of our planet are from the Pacific Islands, these two areas are inexorably linked in the face of climate change: melting ice from the Arctic adds water to the ocean and causes the sea level rise that we observe in Micronesia. The Arctic itself is not spared of destructive effects of climate change either. Houses there are literally sinking into the ground as the frozen soil melts, and people struggle to feed their families as warm weather disrupts traditional hunting and fishing patterns.
Paradoxically, indigenous people of Micronesia and the Arctic live far away from nations most responsible for the global climate change, yet find themselves bearing the brunt of it. Indigenous people's voices would be more powerful around the world if people facing similar hardships could connect with each other and speak together. Wanting to create just such opportunities, the Pohnpei-based organization, Island Research & Education Initiative (iREi) has partnered with Canadian organization Students on Ice (SOI) to create a unique program called Coral & Ice Exchange. According to Dr. Danko Taborosi of iREi, whose 2016 visit to the Arctic inspired the work to create this program, the aim is to "provide opportunities to youth of today to gain truly unique and powerful perspectives, make lifelong friendships and connections, and become climate leaders of tomorrow."

The program has secured three $10,000 scholarships, awarded by Tarek Sherif and Sophie Nicholson from New York, Island Research & Education Initiative (iREi) from Pohnpei, and Neco Marine from Palau, respectively to Chloe Arnold from Chuuk, Karen Ehmes from Pohnpei, and Dylan Telei from Palau. The students were selected on the basis of their academic performance and an essay contest. Both FSM students hail from Xavier High School, which has enthusiastically embraced the program. Xavier's principal, Mr. Martin Carl, says "I am extremely grateful to iREi and the generous benefactors from New York for allowing our students to participate in this once-in-a-lifetime learning opportunity. Both Chloe and Karen are excellent students and I am proud of them for representing our school and the entire FSM." In the first week of August, Chloe, Karen, and Dylan will travel to Canada, where they will join students from other parts of the world and board an expedition ship where they will live for 2 weeks.
The ship will cruise through the Canadian Arctic and Greenland, visiting communities and wilderness areas high above the Arctic Circle, where the sun never sets this time of the year. After the students return to their homes at the end of August, they'll share what they have learned about what climate change is like on the global scale and how it affects people locally in different places, and apply that knowledge in their further education and careers, perhaps even helping their own communities adapt to climate change in the future. In September, the readers of Kaselehlie Press will hear directly from Chloe, Karen, and Dylan about their uniques experiences and see their photos exploring the distant North.