Vice President George Visits USAID and IOM Project in Chuuk
Details

Category: News
Published: Sunday, 16 July 2017 12:16
Written by IOM
Hits: 1192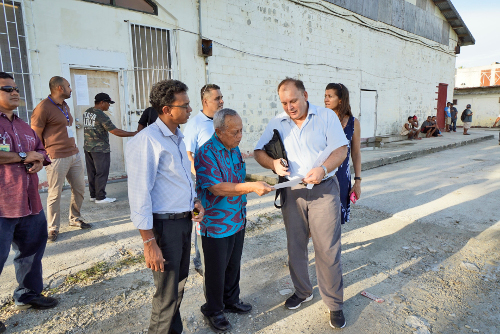 International Organization for Migration
On June 15th, Federated States of Micronesia's Vice President Yosiwo George participated in a Typhoon Maysak house handover in Chuuk. The house is one of a total of 334 private family homes being built throughout the state of Chuuk as part of USAID's Typhoon Maysak Reconstruction Project. In partnership with IOM and the FSM government, USAID is rebuilding homes and infrastructure destroyed by 2015's Super Typhoon Maysak. Accompanied by a team from USAID and IOM, Vice President George hiked up Chuuk's steep and rugged terrain to participate in the handover and ask questions about the project. The Typhoon Maysak homes are being built by groups of trained workers from within each community. Before a completed house is presented to the beneficiary, it must pass a stringent quality control check to ensure it has been built properly according to the drawings and specifications of the engineers and architects.

Vice President George was impressed with the quality of the construction and the scope of the project: "It's amazing to see how people living way up here can get a house. These are excellent jobs and opportunities…it is very important for us to understand this response ." Previously, FEMA was the U.S. government agency responsible for providing relief to disasters within the FSM. That responsibility was transferred to USAID in 2008 pursuant to provisions in the Amended Compact Treaty between the FSM and the U.S. Typhoon Maysak was the first natural disaster in the FSM under the amended provisions. The partnership between USAID and IOM is that of a 'donor' and 'implementing partner'.
As the donor, USAID provides funding, sets the scope of work, and manages the overall project from its regional office in Manila and coordinated through the USAID Typhoon Maysak project field office, based out of the U.S. Embassy in Kolonia, Pohnpei. TMRP is USAID Manila's largest project. As the implementing partner, IOM is responsible for hiring staff to complete the project, as well as construction, logistics, and day-to-day operations. Because IOM has 166 member states, the staff come from all corners of the globe. According to Vice President George, "It's a mini-U.N. right here in Chuuk. That's the beauty of this.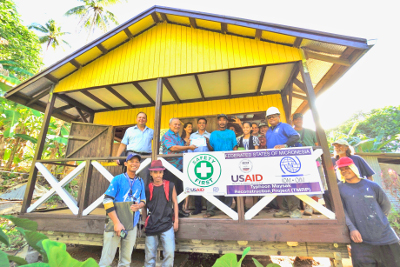 Whether you're from different islands or different countries - this program shows that we can be international." IOM's head of sub-office in Chuuk, Karupiah Vedharaniyam, spoke about the quality of Chuuk's workers during the visit: "Here in Chuuk they are very hardworking. They are very dedicated and now they have been exposed to working within an organization." More than 1,330 community workers have been trained and mobilized in Chuuk throughout the course of the project. These workers will be given a card that documents their involvement in the project and could help in attaining future employment in places where documentation of past work is a requisite for applying for a job. Vice President George wrapped up the visit with words of encouragement: "I recommend that more government leaders visit the project…I'm sure our people much appreciate this – they may not always be able to say that in words, but it is in their hearts." As the housing portion wraps up, the project's focus is now shifting to the repair and reconstruction of public infrastructure. The Typhoon Maysak Reconstruction Project is a $45 million project to repair and replace homes and public infrastructure damaged or destroyed by Typhoon Maysak. A total of 428 new homes are close to completion throughout Chuuk State and Yap's Ulithi Atoll. Additionally, 155 public infrastructure projects are underway, including the repair and reconstruction of schools, public utilities, community houses, dispensaries, and other public buildings.