Pohnpei LP Gas and Seven Stars' businesses sponsor "big fish" tournament in Pohnpei
Details

Category: News
Published: Monday, 31 July 2017 13:05
Written by Pohnpei Fishing Club
Hits: 989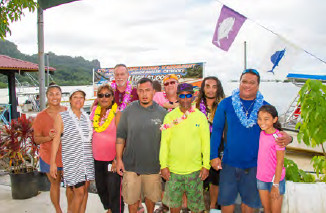 By Pohnpei Fishing Club
July 8, 2017
Pohnpei—Pohnpei LP Gas, Seven Stars Inn, Restaurant, and Store, and Hot Plate joined together to sponsor a fishing tournament on Saturday, July 8. It was a "big fish tournament", with prizes awarded to anglers who landed the biggest fish regardless of species and separate prizes awarded to the biggest fish of each qualifying species.
Ferny Perman was the $1000 prize winner with his 106.5 pound marlin. Walden Weilbacher won the $600 second place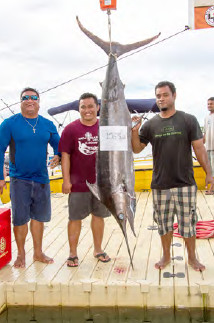 prize for his massive 92.6 pound yellowfin tuna. Rospeihn Marcella Hawley took home $300 for her 63.1 pound yellowfin, and Marvey Spencer pocketed $200 for a 54.1 pound yellowfin.
The fishing club did not list the cash award prizes for the winners of the largest fish caught of each qualifying species but the winners were Ryan Hawley for a 53.8 pound yellowfin, Konrad Englberger for a 28.9 pound barracuda, Welber David for a 15.2 pound skipjack tuna, and Norieka Lekka for a huge 20.3 pound rainbow runner.
For the Lady Angler prizes, the Club did not list fish weights for the winners but the winners were Rospeihn Marcella Hawley who won $200 for a yellowfin and Rosa Weilbacher who won $100 for a yellowfin.
We want to thank everyone who helped out including Bill Pendergraft, Tina Albert, Cel Mercado-Perez, Serlynn Kersey, Uta Krause and Jim Tobin on the barbecue, and Kumer Panuelo's crew on the boom truck and helping with the weigh in. Many thanks to Mangrove Bay for the venue.
No one caught a record breaking marlin. The jackpot now stands at $2,900.00 for the person who does break the record.
Great tourney, thanks to the sponsors LP Gas, 7 Stars Inn, Restaurant and Store, Hot Plate and all who helped.
The kids tourney is coming up the end of July and Matson is our next adult tourney in August.