Summer of Fun and Learning at Peace Corps - DOE Model School
Details

Category: News
Published: Monday, 31 July 2017 13:51
Written by By Lucas Arribas Layton
Hits: 739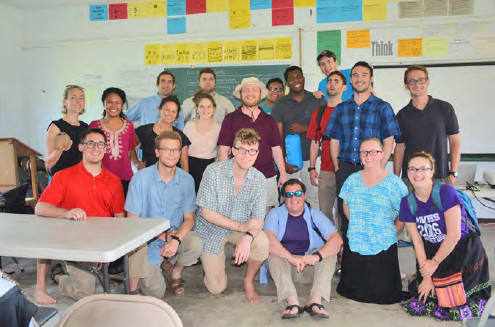 By Lucas Arribas Layton
July 25, 2017
Pohnpei—If you have passed by Nett Elementary School during the month of July, the activity level may have surprised you during what is usually a quiet summer holiday month. School age kids, along with Micronesian and American teachers, could be seen to be engaging in a variety of educational activities, including singing, role playing, dancing, scavenger hunts, creative writing, artistic expression, exploring local myths and legends, and other activities focused on strengthening English language comprehension and usage.
The US Peace Corps, in partnership with Pohnpei State Department of Education (PDOE) and the College of Micronesia (COM) sponsored a 6-week professional development course for 19 local teachers and 19 American Peace Corps Trainees, including a 3 week Model School program for over 100 local elementary school students hosted at Nett Elementary School. The activities were part of a larger 10-week Pre-Service Training that all Peace Corps Volunteers receive to help prepare them for a 2-year term of service. In Micronesia, Peace Corps Volunteers work in Elementary Schools as co-Teachers focused on Language Arts and community development in all four states of FSM. This year the volunteers are spending their first ten weeks as Trainees in the Nett/ Kolonia area. They will swear-in and depart for their assigned schools in mid-August.

The Peace Corps Teaching English as a Second Language (TESL) professional development program is in its sixth year. It offers teachers in Pohnpei public schools the opportunity to join Peace Corps Trainees to participate in sessions focused on different approaches to teaching English. Those approaches include lesson planning, co-planning and co-teaching, vocabulary and reading, grammar and writing, speaking and listening skills, differentiated teaching, classroom motivation and management, early learners, FSM Accreditation, critical thinking, FSM Standards and Benchmarks, extra-curricular activities, and formative and summative assessments. All participants engage in the three-week teaching practicum where they demonstrate new skills learned from the course while co-planning and co-teaching in a Peace Corps Trainee/Host Country National partnership during Model School.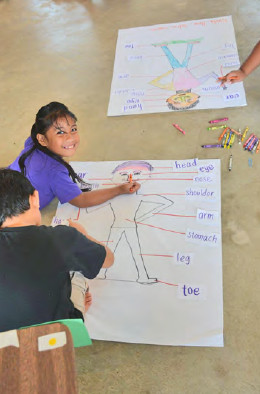 "I love the plan of co-teaching and co-planning, because it makes the job more interesting, fun, and helps us manage our time wisely, share new strategies, skills, and workload," one of the local teachers said.
Although Peace Corps has been present in Micronesia since 1966, training locations and activities vary from year to year. The Peace Corps, PDOE, and COM have collaborated to offer a Model School professional development program here in Pohnpei since 2012, but this is the first time Peace Corps has held this training in Nett since 2014. Members of the local community are housing the Peace Corps Trainees and helping them to learn about local culture and the Pohnpeian language.
The purpose of the training and practicum is to prepare Peace Corps Trainees to serve in Micronesian classrooms, to help build the capacity of local teachers, and to offer local students the opportunity to participate in a fun safe learning environment where they can practice English language skills in a student centered classroom. All Peace Corps Trainees have at minimum a 4-year college degree, and by the time they are sworn in, will have completed the intensive 10-week pre-service training; however, for some, this Model School has provided them their first opportunity to teach in a formal classroom setting.
Peace Corps is a United States Government Agency dedicated to promoting world peace and friendship. Since its founding by John F Kennedy in 1961, more than 250,000 Americans have served as Peace Corps Volunteers in over 140 countries world-wide, including more than 6,000 in Micronesia.