Yap Campus conducts successful 2017 summer science fair
Details

Category: News
Published: Monday, 31 July 2017 14:08
Written by Yap Campus - COM-FSM
Hits: 831
Yap Campus - COM-FSM
Yinuf, Yap – On July 14, 2017, a Science Fair was held at Yap Campus with the theme "Expanding Creativity and Interest in Science in our Young Adults." The purpose of the science fair was to encourage and promote student interests' and involvement in science education and careers especially in agriculture, marine science, food sciences, and natural resources. In her welcome remarks, Dean Lourdes Roboman highlighted that the science fair also demonstrated the collaboration and effort between the college and high schools in Yap, "that we are all working toward the same goal: to educate our young children today to be tomorrow's future."
Twelve students from Yap Catholic High School presented four science projects, ten students from SDA school presented 3 science projects, thirty-eight Upward Bound students from Yap High School presented four science projects, and seven students representing Yap High School presented three science projects. Also on display were youths participating in the Yap CRE summer Arts and Crafts program where they are learning techniques in wood carving. A Robotics demonstration by the Yap Catholic High School students was also an attraction of the fair. More than three hundred visitors including participants from the four states attending the Micronesia Teacher Education Conference were able to witness the excellent work and display that students presented that covered many topics and issues relating to climate change, environment, agriculture, and natural resources management.
Each individual project was ranked by five judges in areas of creativity, scientific thought, thoroughness, and clarity. Prizes were awarded to the following project/group:
• 1st Place – Seaweed Compost, Yap Catholic High School students Hans Banua and Myla Mailing for $300 cash and $100 Gift Certificate
• 2nd place – Plastic Housing, Seventh Day Adventist school students Jonathon Haleyesemal, Valencia Gamangin, Lorainlynn Buliche Sinem, and Hannah Joyce Hernandez for $200 cash and $50 Gift Certificate
• 3rd place – Climate Change, Yap Catholic High School students Giselle Giyetinag, Candis Tiningdow, and Mayah Torwan for $100 cash and $50 Gift Certificate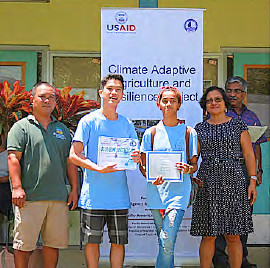 A group was also awarded a prize for "Crowd's Favorite" - SDA students Jonathon Haleyesemal, Valencia Gamangin, Lorainlynn Buliche Sinem, and Hannah Joyce Hernandez won this award for their project "Plastic Housing". Consolation prizes and certificates of participation were also given out to all student participants in the fair for their hard work.
The COM-FSM Yap Campus would like to thank and recognize the following for their support and contributions for cash prizes – Bank of FSM, EMI Enterprises, Island Fashion, New Mart, and Senator Nicholas Figirlaarwon.
Special thanks to the USAID/PACAM Project Climate Adaptive Agriculture Resilience and Yap Cooperative Association for providing Gift Certificates for prizes, and for Yap Health Services, Community Ayuw Services, and Bank of Guam for donating items for consolation prizes.
Support for the science fair was also provided by the USDA-NIFA Resident Instruction in the Insular Areas grant, through the College of Micronesia- FSM Cooperative Research and Extension.
First Place winners Hans Banua and Myla Mailing receiving their award certificates, $300 cash prize, and a $100 gift certificate donated by the USAID-PACAM Climate Adaptive Agriculture and Resilience Project ,with Yap Campus Dean Lourdes Roboman and Steven Young-Uhk, Coordinator of Cooperative Research and Extension, Yap Campus