REACH Healthy Nutrition and Tobacco Pledge
Details

Category: News
Published: Monday, 31 July 2017 14:15
Written by Kpress
Hits: 794
As the REACH project in Pohnpei continues through Year 3, efforts were made recently by the Pohnpei Comprehensive Cancer Control Program to visit the heads of various Pohnpei State Departments, offices and agencies to review the reasons why Pohnpei State declared a State of Emergency in 2013 for Non- Communicable Diseases and get support from the state leadership to commit their offices to work toward a healthier workforce.
Specifically, these offices will now support the development of a nutrition policy in their office to promote the consumption of local, health food to be served during meetings and workshops. They will serve healthy beverages including water, coconut water, madeu or other healthy beverages at their gathering, and they will enforce the Clean Indoor Air Act of 1994 which states that there will be no smoking inside all government offices and public settings, including churches, traditional houses (nahs), cars, boats, etc. No smoking signs will be posted to ensure the public is aware of this law and the dangers of smoking.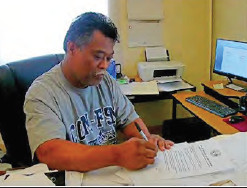 Pohnpei's Governor led the way in signing this pledge previous to having the department heads sign. The following Pohnpei State office leaders recently signed the "Healthy Nutrition and Tobacco Pledge" committing the following state offices towards making Pohnpei a healthier place to live and work:
Director, DOE
Director, Dept of Land and Natural Resources Acting GM, PUC
Director, Department of Resources and Development Public Affairs Officer,
Acting Executive Director, Housing Authority Acting General Manager, Pohnpei Port Authority Public Auditor
Administrator, Transportation & Infrastructure
Acting Administrator, Office of Fisheries and Aquaculture Director of Treasury and Administration
Commissioner, Pohnpei State Transportation Authority
Executive Director, EPA
Director, Department of Public Safety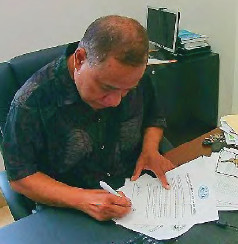 Thanks to all of these state leaders for signing the pledge and guiding us in setting an example of living a healthier life. Previously in Year 1 and 2, the REACH project has gotten support from both church and traditional leadership to sign similar pledges. Now almost all of Pohnpei State leadership has signed this pledge and all have agreed to work towards helping the people of Pohnpei live healthier.
-Director of DOE, Mr. Churchill Edwards
-Director of R&D, Mr. Nick Solomon