Personal bests and FSM records set at World Swimming Championships in Budapest
Details

Category: News
Published: Friday, 04 August 2017 10:06
Written by Bill Jaynes
Hits: 3136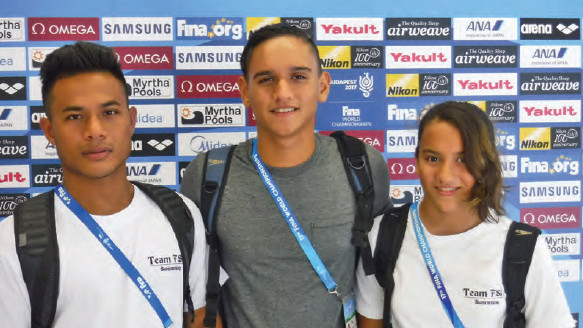 By Bill Jaynes
The Kaselehlie Press
July 28, 2017
Budapest, Hungary—Two FSM swimmers have not only scored personal bests at the FINA World Championships in Budapest, Hungary, but they have also broken two FSM national swimming records.
25 year old Dionisio Augustine was the first to break an FSM national swimming record. On July 25 he swam the 50 meter breast stroke finishing third in his heat with an impressive time of 32.28, not only a personal best for him but an FSM national record time. Augustine finished 66th overall in the world championships.
17 year old Kaleo Kihleng swam his first event, the 50 meter Butterfly on July 23. He finished with a personal best time of 27.98, placing 7th in his heat and 73rd overall. Kaleo swam his final event on July 26, the 100 meter Freestyle finishing sixth in his heat with a time of 56.79, a personal best and another FSM record. He finished 97th overall in that event.

At press time, more swimming events for
FSM representatives were set to occur.
Augustine will be swimming the 50 meter Freestyle on July 28, the same event in which he competed in the Rio Olympics last summer.
13 year old Kestra Kihleng will be swimming her first event on the 28th as well, the 50 meter Butterfly and will finish events on the 29th with the 50 meter Freestyle.
The FSM swimming team was accompanied by FSM Swimming Federation President Sweeter Daniel, Coach Derek Daniel, JICA Coach Akifuma Takahashi and wife Hiromi, and Team Support member, Susan Kihleng.
Susan Kihleng, who provided the information for this article said that she travelled to Budapest at her own expense to accompany her 13 year old daughter and her 17 year old son to the other side of the world. She said that her children have trained twice a day, six days a week at the Pohnpei pool for quite a while.
Kihleng is not a coach and had no say in the selection of her children who together amounted to two thirds of the FSM team, but she is understandably proud of their personal accomplishments.
The outcomes of the swimming races for Augustine and for debuting swimmer in the international arena, Kestra Kihleng will be determined after this newspaper has gone to press.
The FSM team will be enjoying some sightseeing time in the beautiful city of Budapest as well as a lunch with the rest of the Oceania Swimming Association teams over the weekend before beginning the three days of flights home to Pohnpei on August 1. The team will return to the island on August 4.