New Congress funded asphalt plant in Palikir officially opens
Details

Category: News
Published: Friday, 04 August 2017 10:12
Written by Bill Jaynes
Hits: 2873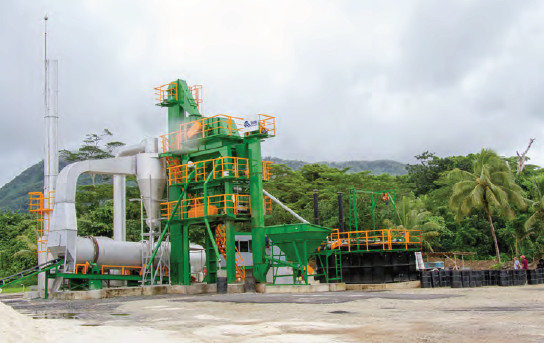 July 19, 2017
Pohnpei—Before the opening ceremony that was held this afternoon, the new asphalt plant in Palikir had already produced approximately 300 tons of asphalt. After the ceremony that included keynote speakers, Acting Governor Reed Oliver and FSM President Peter M. Christian, the plant produced another five tons of the road paving material with the first batch coming out in about 20 minutes.
A Pohnpei Transportation Authority (PTA) truck carried that asphalt up to the top of what is commonly known as "low gear" hill in Palikir and used it to fix some of the many potholes there.
The new asphalt plant replaces the antiquated plant in Palikir that for several years has belched ugly black smoke. Residents downwind of the plant constantly complained about tarry residue on their property whenever the former plant was in use. The old plant still stands—a rusted hulk after nearly 30 years of service.

The new plant, installed by Tanaka Iron Works of Japan which won the bid for the provision of the plant, is much more efficient and the "smoke" that bellows from its heaters is white. The emissions are more steam than anything else.
Though some Palikir residents say that there is still a small amount of white fallout from the plant, it is much better than when the previous plant was in use. Then, clothes left out to dry were often coated in black soot along with everything else on the surrounding properties.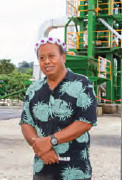 In 2015, the FSM Congress passed a special projects bill that included $2.75 million dollars funding for infrastructure in Pohnpei from locally generated funds. In July of 2015, Senator David Panuelo, the At-Large Pohnpei Senator wrote a letter to Speaker Scaliem of the Pohnpei State Legislature suggesting that $1 million of the special projects could potentially be set aside to replace the antiquated asphalt plant.
The Legislature agreed and Senator Panuelo later amended the project bill to encompass the purchase and installation of the plant. Today's ceremony was the culmi- nation of that process.
At press time it was still unclear exactly how much of the allotted money was spent on the power plant and what was spent on other equipment or supplies related to it. The Director of the Pohnpei Department of Treasury and Administration was not in the office at any time when we called and did not return messages that we left.
The production of asphalt requires different sizes of aggregate. The aggregate is locally available but it's not cheap. PTA Chief Mechanic Adam Respewil who was the only available representative of PTA when we called said that PTA gets black rock aggregate from APSCO at a cost of $75 per cubic yard. Sand comes from White Sand at $35 per cubic yard. The liquid asphalt is imported. Resepwil didn't know the price for the liquid asphalt.